Marvel giving away 700 first issues for free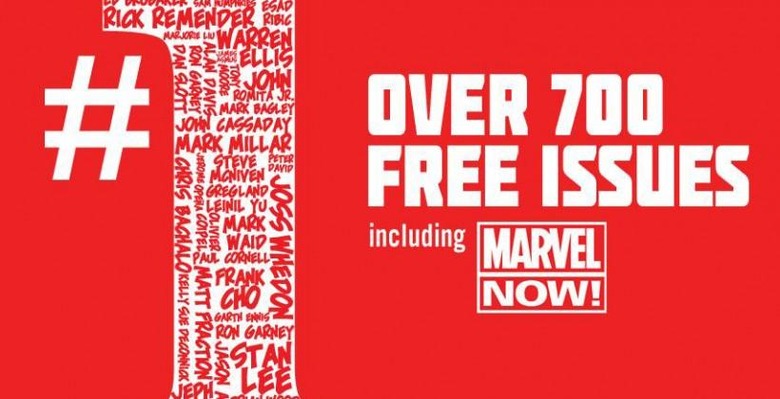 Just a few days ago, Marvel announced a new "Unlimited" comic book plan where you can have access to 13,000 digital comic books for $60 a year. However, if you don't want to pay up, you can grab 700 first-issue digital comic books for free. The offer is good until tomorrow at 11 pm ET, and since you can't download all 700 issues at once, you better get to downloading right this instant.Marvel announced the offer at SXSW this weekend, and comic lovers can use either Marvel's official mobile app or the ComiXology mobile app to download the free issues. Be aware, though, that both services are experiencing quite a bit of traffic, and I even had trouble signing up for a Marvel account (which you need to access the comics).
Both the Marvel and ComiXology apps are account-based service, which means that any comics you purchase and download will be accessable on any device that supports the Marvel or ComiXology apps. You can even use the browser-based Marvel Digital Comics Shop to purchase and download comics and have them ready on your mobile device instantly.
There are a ton of great selections to choose from, including various comic books of The Avengers, Fantastic Four, Spider-Man, The Incredible Hulk, Iron Man, X-Men, and even 22 first issues from the new Marvel Now line. You only have until tomorrow at 11 pm ET to attempt to download 700 comic books, so choose wisely what you start with, especially since Marvel's servers are getting bogged down right now.