Marshall Hanwell Anniversary Edition amp gives your smartphone a tune-up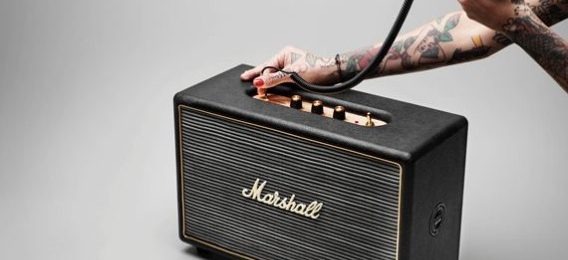 If there's one thing we've liked about Marshall over the past year (not that there's just one, of course), it's that they're able to present a whole new angle on the mobile music world by simply implementing the aesthetics they've already got in place for on-stage audio. What you've got here is the release of the Marshall Hanwell Anniversary Edition amplifier, made specifically for your smartphone and bearing the distinction of being the very first home audio product to be released with "Marshall's legendary script logo."
That's just a fancy way of saying it's the first Marshall speaker out that's not an amp for a guitar, basically. If what we've seen and heard with the Marshall headphones we've reviewed already is any indication, we're about to see some epic sound coming from this lovely beast too, not just fancy looks. Plug your device in the top with the included headphone jack-sized cord and pump it up!
This beast is what's called a Compact Active Loudspeaker if you want to get technical about it, coming with two 6-inch Long Throw hifi woofers, two Ferrofluid Cooled hifi domes, and a PWM Amplifier at 100W (cool running). This machine offers over temperature protection and frequency response along 35HZ-20KHZ +/-5DB. Along the top you've got both bass and treble tone controls and your main output is a fantastic 110DB SPL@1M.

This Marshall Hanwell Anniversary Edition machine is approximately 435 X 193 X 297MM / 17.15 X 7.60 X 11.70-inches large and weighs in at a cool 23 pounds. The casing for this amalgamation of sound amplification is a wooden cabinet covered with black vinyl with fret cloth up front and gold piping throughout to celebrate the 50th anniversary of Marshall. Each of these Hanwell units is branded with a numbered anniversary edition commemorative badge as well.
You can find this machine on the market immediately if not soon for a cool $800 USD. Expect it in your Christmas stocking only if you've got one massive foot.