Marshall Fridge amps up your liquid to 11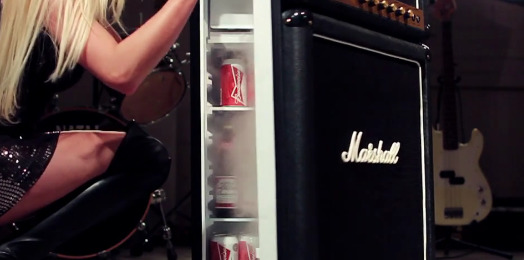 There's a brand new miniature refrigerator in town, and it's not made by any of the common cooler names you'd expect: it's an amp. This fridge is able to cool masses of cans, bottles, or whatever else you may want to include in your musically-inclined drinking space, and appears by all outward appearances to be a hefty Marshall amplifier for your guitar. And the control knobs, of course, go to 11.
This beast is fully reminiscent of a classic Jim Marshall signature series amp, has all official and authentic Marshall logos, and will cool your containers to the degrees you need all night long. This fridge has 4.4 cubic feet of space for several cases of beer, soda pop, or whatever other odd kind of can and bottle-loving liquid you do so desire. It's a high efficiency freezer so you don't have to worry about your electricity bill shattering the roof as your real amp does.
The Marshall Fridge is Energy Star, RoHS, and UL compliant, and is ready to roll into your garage as soon as possible for $299.00 USD. Of course "as soon as possible" is up to Marshall, and at the moment you'll be waiting until October 1st, 2012, to get your first shipment in. The $299 is what Marshall is calling an "introductory price" so expect these monsters to go up in price as the date for shipping does so approach.
Unfortunately this amplifier does not amplify your music, just the cool nature of your fridge contents – you'll need to add this to your speaker stack to make it look best!