Mars Curiosity Rover Grabs A Bit Of Soil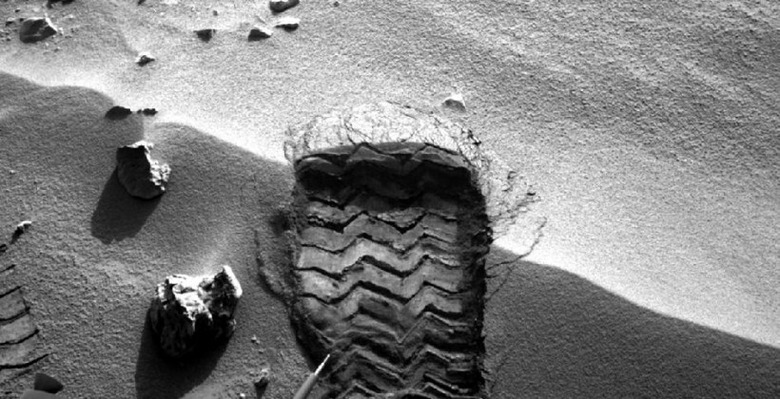 In an update that here on Earth would be beyond mundane, an especially exciting approach towards a ripple of sand has been made by the Mars Curiosity rover and announced today by NASA. This update includes plans for the rover to do a several day analyzation of the sand so that they might make the rover's first use of its scoop a reality. This is just the latest in a long line of updates being shared with the world as the mission moves forward – this is, of course, the most interactive a NASA mission has been allowed to be in its history.
The dust and sand you'll be seeing above and below exists in what's called "Rocknest" – a soil patch on Mars. This location exists right in near the area Mars Curiosity rover landed – and is now right on top of. The next item on the mission's list is the rover doing a bit of drilling and some sieving – they'll be making sure that the sand they're picking up is OK to store inside the rover for an amount of time that's long enough for them to analyze it on a greater level.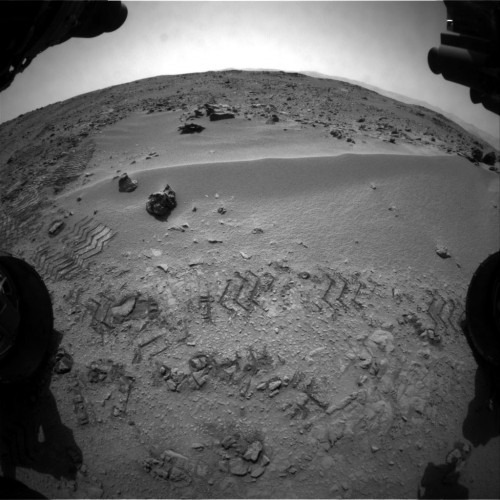 Above you'll see the dune in the distance that the first image in this post has a skid mark on – below you'll see a video showing scoop testing with soil sample (on Earth, pre-mission):
This sieving will take place over the course of several hours and will be the "Sample Preparation" portion of this test – perhaps the most important part of the entire process. This mission report – mind you – took place thus far on Sol 56, that being the 56th martian day on Mars after the craft landed on the planet.
Curiosity's arm delivering sample for analysis:
This mission also included monitoring the environment around the rover with several detectors and instruments. These included the Radiation Assessment Detector (RAD), the Dynamic Albedo of Neutrons (DAN) instrument, and the Rover Environmental Monitoring Station (REMS). The final testing will occur on the sand material after several days of testing, only done once its confirmed that the sand wont ruin the tools the team is using to test it.
One example of something that might go wrong is that the sand would be composed of materials that took in moisture – if they did this to a dangerous degree, you'd have sludge-like junk that'd mess things up royally. Check the timeline below for additional updates from the brief past of the Curiosity mission and stay tuned as NASA samples soil!