Mark Zuckerberg Awarded CEO Of The Year Crunchie, Larry Page Is Runner-Up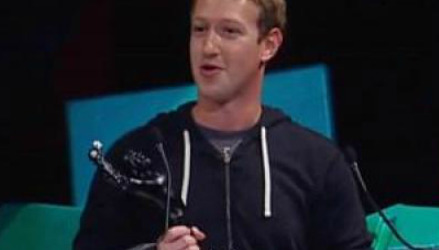 At the 6th annual Crunchies, Mark Zuckerberg has been awarded "CEO of the Year", beating out several other big names in the field, including runner-up Larry Page of Google. Zuckerberg has comes a long way in a short time, taking the idea of Facebook generated during his college years and making it into something that has had a large and lasting impact on both the techsphere and world as a whole.
The event took place at the Davies Symphony Hall in San Francisco, where 2500 people attended. Other contenders for the award included Twitter's Dick Costolo, Yahoo!'s Marissa Mayer, and Evernote's Phil Libin. The event was also streamed online, where a much larger audience watched. John Oliver, writer for The Daily Show, served as host.
The award has received a mixed response, with some feeling that Zuckerberg is well-deserving, having created a company that has had an undeniable impact on people and how they interact with each other through the digital medium. Others have been critical of the award, stating that Facebook had a rocky year and the award would have been better placed in different hands.
Facebook recently posted its Q4 2012 financial report, showing revenue that beat expectations but low profits. Still, the company has been making some big changes, and the number of users remains strong. What do you think of the award? Did Zuckerberg deserve it, or should it have gone to a different CEO? Let us know your thoughts in the comments!
[via Tech Crunch]