Marantz IS301 Bluetooth iPod media dock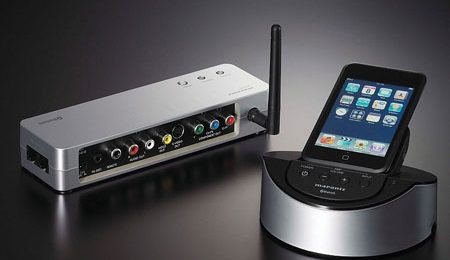 Marantz have taken the wraps off of their latest wireless iPod dock, which uses Bluetooth to stream audio and video around your house.  The Marantz IS301 consists of three parts; the receiver, with various outputs to connect to your stereo and/or TV, the transmitter which the iPod slips into, and the recharging base, which the iPod and transmitter sleeve can be docked into.
That means you can still carry the iPod around to change tracks, rather than leave it plugged into your sound system and then try to remotely navigate using what's probably a screenless control.  The IS301 uses the Bluetooth AVRCP (Audio/Video Remote Control Profile) to manage playback.
Outputs include component and S-Video, among others.  The Marantz IS301 launches in Japan in January 2009 priced at around 26,250 yen ($276); there's no word on a US release.