Manfrotto Advanced Rear Backpack Review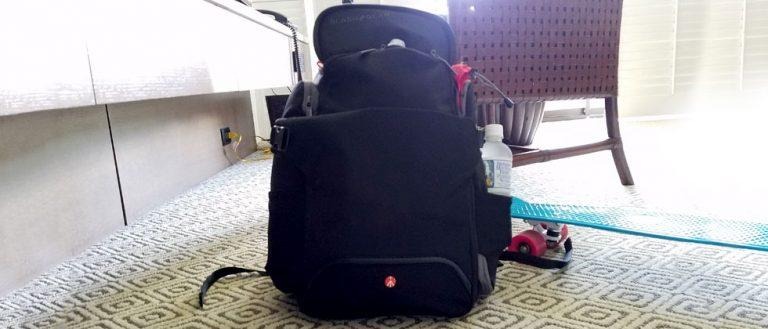 At this point in the relatively lengthy history of SlashGear reviewing backpacks, we've gotten to the point where we're fairly sure we've seen nearly every iteration. What caught my eye with the Manfrotto backpack (SKU MB MA-BP-R) "Advanced camera and laptop backpack w/ Rear Access" was its design – especially in its ability to conceal its contents with a back-facing bit of access. When I travel, I often end up going to heavily populated areas where pickpockets run rampant. This backpack, made for your camera, laptop, and tablet, has a feature that, by definition, blocks access to its contents.
Once I received the backpack from Manfrotto for review, I found myself attached to a press junket trip to Hawaii for the Angry Birds movie (coming out on the 10th of this month). This was to be a trip that'd fit perfectly the equipment I'd need to get around and be productive – all the while feeling safe from any sort of nefarious characters anywhere near me.
Manfrotto suggests that this pack can be used as a camera backpack, a laptop backpack, or "just as a protective camera case." As it were, this backpack is able to store my cameras (plural), laptop, smartphone, water bottle, and a variety of other accessories.
If I'd needed to carry a tripod, this backpack had a compartment for that, too. Inside the pack is also a rain cover – not entirely unlike what we had in our review of the Razer Tactical Bag.
Inside the backpack is a set of two compartments. The center panel zips open to allow the entire bulk of the bigger part of the bag to be open, allowing you to carry larger items if need be. I've opted to open this pocket and slide my laptop in the bigger pocket in front of the "Manfrotto Protection System" – a set of compartments made with soft material that separates the lot.
This compartment system ended up being invaluable to me for keeping my smaller accessories separate during my trip, while I ended up using the frontmost pocket – generally intended for a tablet – for press documents (papers and packets) I had to collect during the week.
ABOVE: Product photos VIA Manfrotto.
One event I don't expect will happen to most travelers carrying a backpack with large amounts of electronics inside happened to me, too. I hit a rock while riding a skateboard in Maui. The board flew forward, I tipped relatively violently backward, and the backpack broke my fall.
It's a testament to the work that went in to padding this backpack that not only was my back and head spared, the equipment inside ended up being completely fine, too. No worries!
Wrap-up
This backpack is available from Manfrotto right this minute for a cool $159.99 USD. They've got it up on their Manfrotto homepage store as of the posting of this review.
While the Razer Tactical Bag remains my top choice for "carry every single thing I could ever need" for gear, this Manfrotto bag is my new favorite for most secure and compact – and best for carrying extremely fragile equipment (large cameras, that is) – without a doubt.