Malta to sell thin Intel Canoe Lake reference design netbook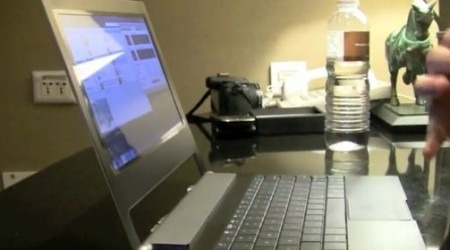 While perusing the halls at Computex 2011 the gang at JKKMobile ran across a familiar face and gleaned a bit of new detail on the device. You might recall at Computex 2010 we spied the Intel Canoe Lake reference design for a very thin netbook that was expected to sell for under $600. Those netbooks haven't made it to stores just yet, but the design is as sexy as ever.
With the new focus on thin netbooks thanks to rigs like the MacBook Air and others, the Canoe Lake design is finally going to be built and sold to consumers. Malta will sell the design, though when it will sell the rig is unknown. The little spec card that sits along with the thin and sexy netbook gives up the details on the machine. It has a 10.1-inch screen and if I am reading the blurry print correctly the processor inside is a Cedar View processor. The machine will have either 1GB or 2GB of RAM as well.
It has dual USB 2.0 ports, a SD card slot, VGA out, and a headphone and mic out port. The machine has integrated WiFi and Bluetooth is optional. The netbook will use Windows 7 and will measure 15-18mm thick. The weight of the machine is unknown as is the selling price and availability. Check out the video below to see for yourself.
[via JKKMobile]