MakerBot Replicator Mini 3D desktop printer lands this spring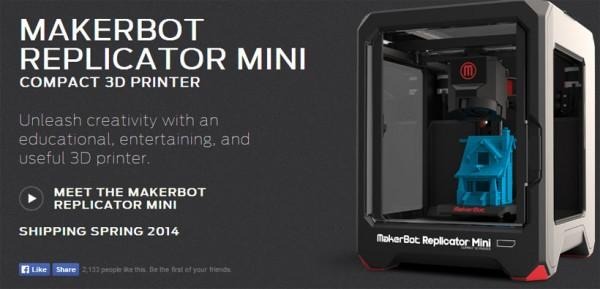 MakerBot is the company behind one of the most popular 3D printers on the market. The printer is called the MakerBot Replicator 2 and it launched in September of 2012. Since that printer launched, we haven't heard much in the way of new products from MakerBot.
The company has now announced that a new 3D desktop printer is coming this spring called the MakerBot Replicator Mini. The new 3D printer is sized for use in small spaces in the home, classroom, or office. MakerBot unveiled the printer during CES 2014 and has now announced the launch window.
Other than saying "this spring", MakerBot isn't offering a firm launch time. The printer will be made in the US with manufacturing in Brooklyn, NY. It will be the cheapest MakerBot 3D printer in the line with a MSRP of $1375.
Pre-orders are underway right now. The Mini printer has a maximum build volume of 3.9" l x 3.9"w x 4.9" h and supports plug and play. The printer is speed optimized and has a plate that doesn't need to be leveled. Default resolution for the Mini is 200-microns. Print medium that the Mini is optimized for includes MakerBot PLA filament offered in 17 colors. The printer also supports 3D models from Thingiverse.com.
SOURCE: makerbot.com