MakerBot Replicator 2 desktop 3-D printer debuts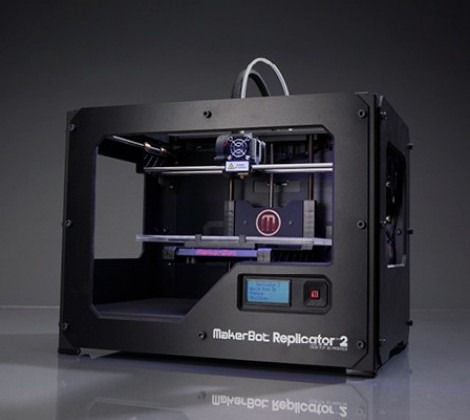 MakerBot Industries has unveiled a brand-new desktop 3-D printer that the company claims is the easiest, fastest, and most affordable tool yet for constructing 3-D models. The new printer is called the MakerBot Replicator 2 and is aimed at engineers, researchers, creative professionals, and anyone else who likes to make 3-D models.
The Replicator 2 has a 100-micron layer resolution, which the manufacturer says is a new standard in professional looking models and accurate, lifelike replicas. The printer is also capable of making large objects up to 410 cubic inches in volume. That works means items as large as 11.2-inches long by 6-inches wide by 6.1-inches high can be made.
The new 3-D printer also ships with updated software enabling faster and more consistent printing. The printer is optimized to work with MakerBot PLA filament. This filament is a renewable bioplastic that is the most popular build material used in 3-D printing. The material is popular thanks to its strength and the ability to make large products without the material cracking or warping.
One interesting feature of the Replicator 2 is that you can make multiple models at one time thanks the large build volume. The slicing engine is also up to 20 times faster than previous technology to allow for quicker printing. The Replicator 2 Desktop Printer sells for $2199.