MAINGEAR SHIFT Super Stock custom gaming PC channels the hot-rod spirit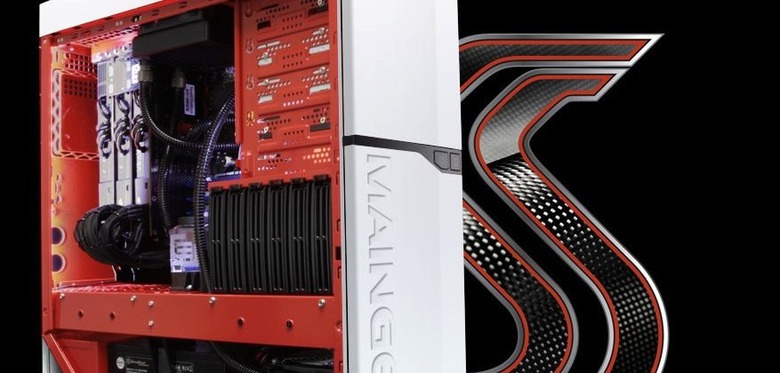 MAINGEAR has never exactly shied away from over-specifying its gaming PCs, but now the company is hoping to pull in some custom attention with their new Super Stock options.  Available on the MAINGEAR SHIFT, the new customizations will include overclocking the Intel Core i7-980X Extreme Edition processor up to 4.5GHz, together with specifying a 3-way SLI NVIDIA GeForce GTX 480 array with a total of 4.5GB of GDDR5 video memory.
There's also liquid cooling, which can be paired with acoustic dampening if it's still not quite quiet enough for you, and then there are various car-finish hand painted case color options (which you can see in the gallery below).  They can be matched with interior LED lighting, if that's to your taste.
The MAINGEAR SHIFT kicks off at $2,299, but as you might expect you can easily push that far, far higher by ticking a handful of options boxes.  For instance, upgrading to the i7-980X Extreme adds $991.
Press Release:
MAINGEAR REVS UP THE SHIFT WITH SUPER STOCK OPTIONS

MAINGEAR launches Super Stock options on their award-winning SHIFT desktop with jaw-dropping performance features including an overclocked CPU, liquid cooling and auto custom paint options

Kenilworth, New Jersey – September 27, 2010 – MAINGEAR, an award-winning PC system builder offering custom desktops, notebooks, workstations and media centers, proves there is always room for more. Bolstering the SHIFT with new Super Stock performance and personalization options, MAINGEAR continues to pioneer the ever-changing horizon of extreme personal computing, by utilizing the best possible configurations with eye catching designs.

Every MAINGEAR Super Stock upgrade is hand-picked and specialty tuned to push the already award winning SHIFT desktop with improvements in performance and design choices built to give the best high-performance PC experience. With maxed out performance including liquid cooled overclocked CPU processor and 3-way SLI® that is perfected in an aesthetically unique designed chassis, this system will turn heads in performance and looks.

Uncompromising Performance: With MAINGEAR's Redline™ CPU overclocking, PC enthusiasts will be able to enjoy fast and stable CPU performance with Intel® Core™ i7-980X Extreme Edition processor overclocked up to 4.5GHZ. Along with 3-way SLI® NVIDIA® GeForce™ GTX 480, totaling to 4.5GB GDDR5, performance and everyday users can enjoy vivid movies, 3D games, entertainment and even get some 3D CAD or rendering processed in the background with this combination of ultimate performance.

Custom Liquid Cooling Excellence: MAINGEAR's Super Stock option will also offer LiquidX 2700 and 2900 Supercooler Package which is a highly tuned watercooling loop built from the best components available that is hand-cut and wrapped. It uses no-dye liquid, Koolance CPU-360 Waterblock with compression nozzles, and is shipped with the liquid coolant pre-filled. And, if that isn't enough, MAINGEAR also offers Acoustic Dampening to further minimize any other potential noise.

Custom Paint Job: The Super Stock option package offers six high gloss custom paint colors, both painted interior and exterior that gives the SHIFT system a special uniqueness yet shows a familiarity that is still unmistakably MAINGEAR. The system is hand-painted using high quality auto paint in luxurious colors in such as Root Beer and Brandywine, you can mix and match nearly 200 different color combinations.

Super Stock Highlights:

MAINGEAR SHIFT exclusive patent pending* advanced vertical heat dissipation chassis with window

Nearly 200 color combinations for the interior and exterior of the chassis of professional car paint colors in colors to fall in love including: Brandywine, Cobalt Blue, Frost White, Organic Green, Root Beer and Burple

Internal LED lighting to match your interior and exterior colors

Redline™ CPU overclocking up to 4.5GHZ with the Intel® Core™ i7-980X Extreme Edition processor

MAINGEAR LiquidX 2700 and 2900 Supercooler Package, which is a hand-built, highly tuned watercooling loop

Front-mounted 3 drive hot swappable bays to make it easy to pull hard drives in and out

1.5KW Silverstone Strider Modular Industrial power supply

Performance chassis cooling upgrade fan to 180mm, 1300rpm, 150 cfm

· Acoustic Dampening to lower the overall system noise

· Unique Super Stock Out-of Box accessories including MAINGEAR branded t-shirt, toolkit, mousepad, and branded beanie hat

· Starting at price of SHIFT is $2,299

"The MAINGEAR SHIFT with Super Stock Options provides a unique and differentiated opportunity for overclockers to take advantage of the Intel Core i7-980X Extreme Edition – the world's fastest, smartest PC processor. Intel's world class manufacturing helps deliver industry-leading performance to allow PC Enthusiasts the ultimate gaming & media experience." Chris Tobias – Director, Channel Desktop Marketing – Intel

"MAINGEAR is good at what they do, continually offers offering unique options and performance capabilities where it counts, which makes them one of the premier system integrators in the country," said Ujesh Desai, vice president of GPU business at NVIDIA. "With NVIDIA three ® 3-way SLI NVIDIA® GeForce™ GTX 480s under the hood running in a 3-way SLI configuration, MAINGEAR customers , 4.5GB GDDR5 is designed to offer gamers can be assured of incredible scalability in their graphics performance and an awesome overall PC gaming experience, no matter their game of choice."

"The MAINGEAR SHIFT with Super Stock options and Microsoft Windows 7 are representing a whole new generation of performance and personalized user experiences for hardcore gamers and PC enthusiasts alike." said Eddie O'Brien, VP of Microsoft US OEM.

All of MAINGEAR products are supported with lifetime labor and phone support with one to three year hardware warranty.