Maingear add ATI Radeon HD 5870 to gaming line-up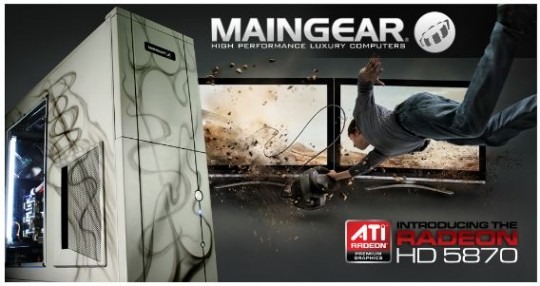 It'll come as little to no surprise that, with the new ATI Radeon HD 5870 video cards fresh on the scene, gaming PC manufacturers are already updating their wares to include the DirectX 11 capable GPU.  Maingear is one of the first into the SlashGear inbox, with their Ephex, F131, Prelude, and X-Cube systems all getting friendly with AMD's newest graphics card.
As you might expect, it's not a cheap upgrade option in any case.  On Maingear's flagship desktop, the Ephex, the HD 5870 is the entry-level ATI card on offer in a system starting from $2,385.  Alternatively, you can have two or even three of them, for $500 or $1,000 extra respectively.
If you're on a budget, Maingear's cheapest model on which you can spec an HD 5870 is the X-Cube, and there the new ATI Radeon is a $370 option.  That's just under $10 less than what you'd pay for the card on its own; you can also slap two of them in there, for $870.