Today we're looking at the first collection of "Ponies: The Galloping" – for charity. This collection of cards and sleeves and generally cute nonsensical fun is appearing both in the USA and Canada. There'll be digital Ponies: The Galloping sleeves in Magic: The Gathering Arena, there'll be special edition playmats from Ultra PRO, and there'll be a 3-card set.
The Ponies: The Galloping Trading Card Set isn't the same sort of set you think of when you're looking forward to the next round of MTG. This isn't something you're going to need to prepare for in official tournament play. Instead, this is a charity situation in which a set of 3 cards can be purchased, all at once, ultimately benefitting Seattle Children's Hospital.
The set of three cards will be a whopping $50 USD – but there's a good reason for that. A donation of $30 of the total $50 will be made to Extra Life – and that'll be passed on to Seattle Children's Hospital. This set of cards will be made available for a limited time, from October 22, 2019, until November 5, 2019.
This limited-time window for the cards is in place in accordance with the placement of two other events. One is the October 12 series finale of My Little Pony: Friendship is Magic, the other is the November 2, 2019 Magic: The Gathering Extra Life event.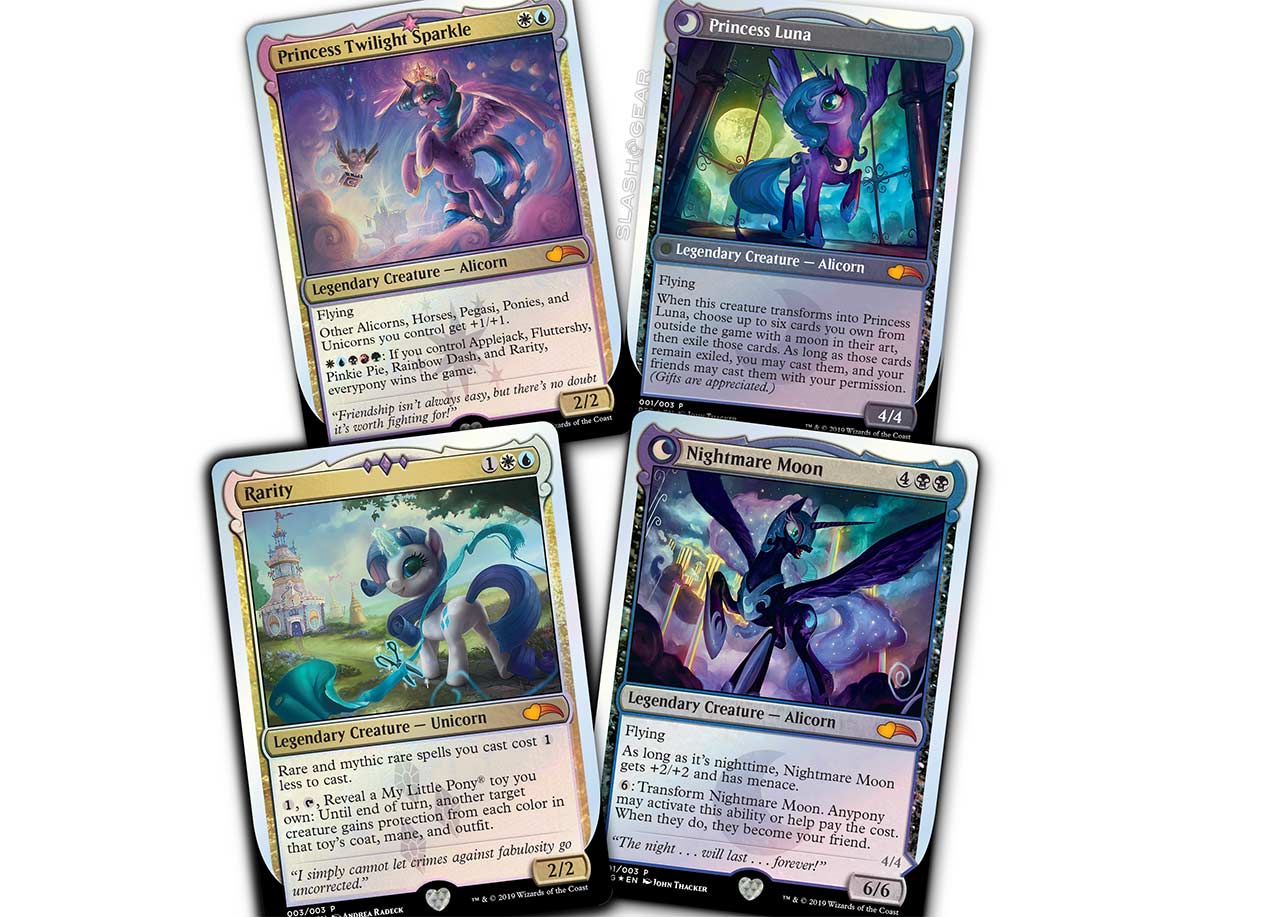 Above you'll see the three cards in the set. They are a silver-bordered, double-sided Princess Luna/Nightmare Moon Magic card, a silver-bordered Princess Twilight Sparkle Magic card, and a silver-boarded Rarity Magic card. According to Hasbro/Wizards of the Coast, these cards are "limited quantity" and "available while supplies last" from Hasbro Pulse online.
There's also a set of Ultra PRO playmats that'll cost a cool $100 USD, with $80 (of that total 100) donated to Seattle Children's Hospital. The Ponies: The Galloping Playmats by Ultra PRO bundle will include 3 playmats (2 single-sided playmats and 1 double-sided playmat). These will also be available from Hasbro Pulse – and nowhere else – for that limited period of time.
There'll be some digital Ponies: The Galloping sleeves available in the Magic: The Gathering Arena game from October 22 to November 2 for around $4 USD. Non-My Little Pony event proceedings will take place on the MTG twitch stream at twitch.tv/magic from October 28 to November 1, 9AM to 12PM PT. You'll find more action on this in the near future over at Extra Life.