Magic Mushrooms to light your path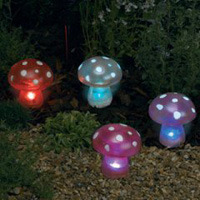 If you're looking to make your yard look a bit more mystical, or attempting to make it look like that last time you were on all those mystery drugs then pick up a few of these "Magic Mushrooms".  That or you could just screw with your friends that have permanently fried their brain and pretend to not see them.
I have a couple of friends like that, when you invite them over it's a bit like hiring a clown for a child's party.  They are there as the entertainment.
These little guys come in packs of four and of course are solar powered.  Each one also has a color changing LED light.  They are being sold for £ 28.49 or about $57.
[via coolest gadgets]