Magic Cube is a levitating laser display for your treasures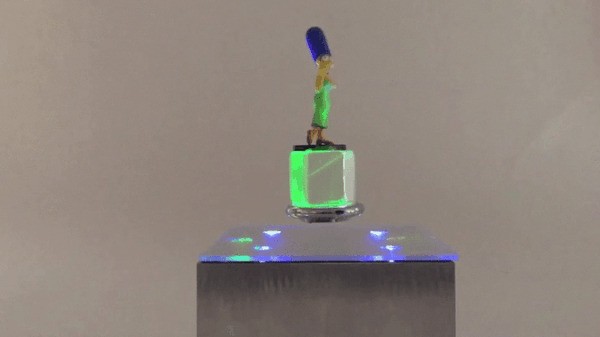 If that levitating speaker has given you a fondness for floating objects, the new Magic Cube will satisfy your showcasing needs. Magic Cube is basically a levitating display, though it also serves just as well as a funky modern decorative piece. The unit is comprised of a large cube-shaped base that houses the technology, and a small saucer-shaped levitating platform upon which you can place an available clear prism, or a small object of your choosing, or both.
Using magnetism, Magic Cube floats a small saucer above a large base, and makes it extra interesting with the inclusion of an embedded green laser. The unit is made from brushed aircraft grade aluminum with a mirrored acrylic top; the saucer, meanwhile, spins and can hold objects that weigh up to 13 ounces. Things like rings, watches, little toys, and other small treasures can all be showcased with it.
The base includes four white LEDs for aligning the saucer, and there's an on/off switch for controlling the laser. It is said to have low energy consumption, with the laser using 5mW; the entire unit weighs 5 lbs. All in all, it looks very simple to use — just align the saucer component in the middle of the base, release it, and it will start to spin while levitating.
The creator, Dale Rorabaugh, is seeking $15,000 USD on Kickstarter, where about $11,500 USD has been raised with 39 days remaining. If you're interested, you can put in a pledge for your own by backing the product at $179 USD. This will get backers, assuming all goes as planned, the Magic Cube system with an estimated shipping date of October.
Check out the timeline below for other levitating products!
SOURCE: Kickstarter