Magellan sells consumer GPS business to MiTAC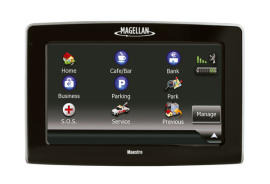 Magellan has announced it is selling its consumer products division to MiTAC, with the deal expected to be finalized in January 2009.  Exact financial terms have not been disclosed, nor what will happen with Magellan's current range, such as the recently-announced Maestro 4350 series devices. 
MiTAC are the parent company of subsidiaries Mio and GETAC, both known for their GPS products.  It's possible that the Magellan product range could be integrated with the Mio range, or it could continue until end-of-life under the Magellan brand which would then be retired.
Earlier this month, Panasonic announced it would be withdrawing from the European satnav market, faced with dramatically falling prices.  The standalone GPS market has suffered from the rise in mobile handsets with integrated GPS and data connectivity, with the market becoming saturated and buyers unwilling to spend on premium devices.
Press Release:
Magellan Enters into Definitive Agreement to Sell the Magellan Consumer Products Division to MiTAC International Corporation

SANTA CLARA, Calif., Dec. 15 — Magellan Navigation, Inc. today announced it has entered into a definitive agreement to sell the Magellan consumer products division to MiTAC International Corp. Closing of the transaction is anticipated in January of 2009. Financial terms are not disclosed.

Recognized as an industry innovator, the Magellan consumer products division is the creator of the award-winning Magellan(R) RoadMate(R) and Maestro(TM) series portable car navigation systems, and the Magellan Triton(R) outdoor handheld navigation devices. The company is recognized worldwide through its Magellan brand.

About Magellan

Magellan allows people to travel, work and play their way with leading portable navigation and positioning solutions across multiple consumer markets. Recognized as an industry innovator, the company is the creator of the award-winning Magellan RoadMate, and Maestro series portable car navigation systems, as well as the CrossoverGPS(TM) and Magellan Triton outdoor handheld navigation devices. Magellan is privately held and headquartered in Santa Clara, Calif. For more information on Magellan, visit http://www.magellangps.com.

About MiTAC International Corp.

MiTAC International is a global ITC (information technology & consumer electronics) company headquartered in Taiwan and publicly listed on the Taiwan Stock Exchange. Its business spans three major areas — mobile communications (personal navigation devices, GPS smart phones and mobile Internet devices), enterprise systems (workstations, servers, and storage equipment) and client systems (personal computers and digital home entertainment products). MiTAC International has large vertically integrated manufacturing sites in China, as well as extensive R&D facilities in US, China, Taiwan and New Zealand. MiTAC International also has marketing operations in the U.S., West Europe, Central East Europe, APAC, China, Japan, Australia and rest of the world. The company is recognized by the industry for its innovative product design capability as well as its integrated design-and-delivery system. For more information about Mitac, please go to: http://www.mitac.com 
[via GPSTracklog; thanks Rich!]