Magellan Maestro 4700 PND navigates onto shelves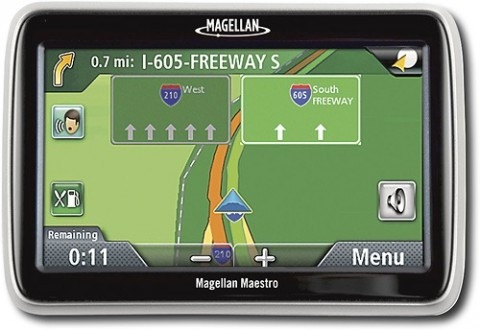 Magellan have officially launched their latest PND, the Maestro 4700, a little over a month since it was spotted clearing the FCC.  The 4700 has a 4.7-inch touchscreen together with voice command and Bluetooth with a noise-canceling microphone.
There's also POI from the AAA TourBook, and a double-capacity "OneTouch" favorites menu for more frequently-visited destination.  Magellan have given the Maestro 4700 predictive traffic, which uses previous traffic patterns to plan journeys that will bypass known slow points, and there are 3D landmarks to allow drivers to better orient themselves. 
A pedestrian mode with "find my car" feature rounds out the major specifications.  The Magellan Maestro 4700 is shipping now, with a windshield mount and cradle, 12-volt power adapter, USB cable, pouch and on-dash adhesive mounting disc.  It has an MRSP of $299.99.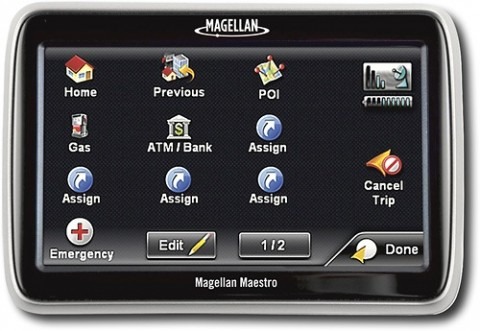 [via GPS Tracklog]
Press Release:
Magellan(R) Unveils Next Generation Maestro(TM)

Magellan Maestro 4700 Boasts a New Design with a 4.7-inch Display, Voice Command, Bluetooth, and Highway Lane Assist

SANTA CLARA, Calif., July 6 /PRNewswire/ — Magellan, one of the leading GPS brands, introduces the Magellan Maestro 4700 GPS device. The ultra-slim device features a wide 4.7-inch color touch screen and includes many premium features to deliver a robust navigation experience for users. In addition to Magellan's OneTouch user interface, the Magellan Maestro 4700 device also performs advanced navigation tasks with built-in voice command capabilities and hands-free Bluetooth calling.

"The Magellan Maestro 4700 lets you keep your eyes on the road and hands on the wheel," said Mike Wagner, senior director of product marketing for Magellan. "We have incorporated voice command, Bluetooth, and highway lane assist to help you reach your destination with confidence. The large 4.7-inch screen is easily viewable in all lighting conditions. Thanks to our unique OneTouch favorites menu and our AAA partnership, the Magellan Maestro 4700 makes trip planning and traveling easier and less stressful."

The Magellan Maestro 4700 features several premium features including:

– Exclusive OneTouch(TM) Favorites Menu: Access favorite destinations

and searches with personalized bookmarks. Reach your favorite cafe or

restaurant in any city with a single touch. To meet consumer

requests, the Magellan Maestro 4700 now offers an additional twelve

bookmarks to save favorites.

– Bluetooth Compatible Hands-Free Calling: Make or receive calls using

a compatible cell phone. Access your phone's address book to access

up to 1000 numbers directly from your Magellan Maestro 4700. The

noise-cancelling microphone keeps road noise down so you are heard

clearly.

– Predictive Traffic: Analyzes past traffic patterns when creating a

route to help you avoid known delays. Choose to stay on your current

route or go with suggested less congested routes.

– Instant Access to All Points Of Interest (POI): Perform one search

and get results from both the standard POI database and the

Magellan-exclusive AAA TourBook(R) guide. Results are organized in a

tabbed format.

– "Find Your Car" with Pedestrian Mode: Remembers the location of your

car in parking lots, airports, malls, universities, amusement parks or

stadiums. When your day is done the Magellan Maestro 4700 will

automatically guide you to your car.

– 3D Landmarks: Displays visual cues to help drivers perform maneuvers

and find destinations.

– Larger Fonts: Makes viewing easier and safer while driving.

– Intuitive, Context-Driven Touch Zones: Provides drivers with a

completely interactive map screen.

– New Address Book: Makes adding an address a snap with smart address

summary that lets users save complete itineraries.

– QuickSpell(R) with Smart City Search: Allows quick, single-address

entry or convenient multi-destination trip planning, including route

optimization.The manufacturer's suggested price for the Magellan Maestro 4700 is $299.99. It ships with a windshield mount and cradle; 12-volt vehicle power adapter; USB cable, protective pouch, adhesive disk for alternative, on-dash mounting; and quick reference guide. For additional accessories, including cases, pouches, and other mounting options, visit www.MagellanGPS.com.

Map updates for Magellan products can be purchased separately.

About MiTAC Digital Corp.MiTAC Digital Corp. is a wholly-owned subsidiary of MiTAC International Corporation and promotes and sells products and services under the Magellan brand name. Magellan assists people to travel, work and play their way with leading portable navigation and positioning solutions across multiple consumer markets. Recognized as an industry innovator, the company is the producer of the award-winning Magellan RoadMate(R), and MaestroTM series portable car navigation systems, as well as the Magellan Triton(R) outdoor handheld navigation devices. MiTAC Digital Corp. is headquartered in Santa Clara, Calif. For more information on Magellan, visit http://www.magellangps.com/.

About AAA

As North America's largest motoring and leisure travel organization, AAA provides more than 51 million members with travel, insurance, financial and automotive-related services. Since its' founding in 1902, the not-for-profit, fully tax-paying AAA has been a leader and advocate for the safety and security of all travelers. AAA clubs can be visited on the Internet at www.AAA.com.

The Magellan logo, Magellan, RoadMate, QuickSpell, Triton are registered trademarks of MiTAC International Corporation and OneTouch, Maestro are trademarks of MiTAC International Corporation and are used under license by MiTAC Digital Corp. All rights reserved. The AAA TourBook, Roadside Assistance are trademarks of American Automobile Association. AAA(C) 2009 All rights reserved. All other trademarks and registrations are the property of their respective owners.