Mad Catz MOJO Android Mini Game Console Shipping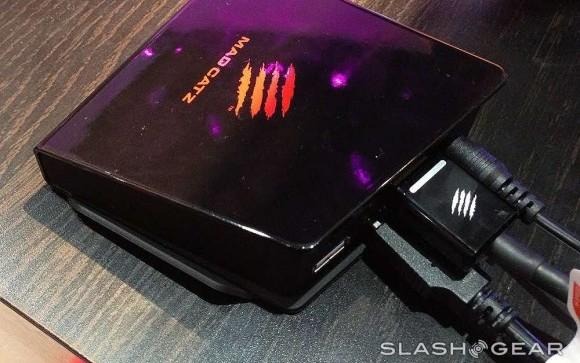 The release of the Mad Catz MOJO has been initiated, and this miniature console device – unveiled for the first time earlier this 2013 at E3 – is ready to roll. The MOJO is a mini gaming console with the ability to take on the full Android universe of mobile games. Those specifically pointed at the MOJO will be ones ready to roll with full handheld physical controller compatibility.
One of the big differentiators between the Mad Catz MOJO and its competitors is the ability to take the included Bluetooth 4.0 controller with you and game on the go. To do this, the device works with a Travel Clip. With the Travel Clip, users are able to attach their smartphone or tablet to the controller and use it as an on-the-go display – using the phone as the console in that case, of course.
Have a peek at our full hands-on with Mad Catz MOJO as well.
The console itself remains stationary, but it small enough to toss into a purse or backpack with ease. Inside you've got an NVIDIA Tegra 4 quad-core processor, the same as exists in the NVIDIA SHIELD gaming device. With the MOJO, you'll be outputting with full 1080p via HDMI along with full 5.1-channel surround sound.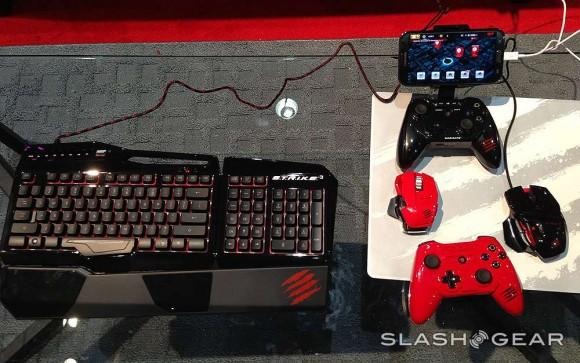 The Mad Catz MOJO also supports a host of other accessories right out of the box with its 2x USB ports, mind you.
These devices support Bluetooth 4.0 / Bluetooth Smart for low-power connectivity, and the console also works with Android apps such as Netflix, too. Simple and powerful, top to bottom. You can connect to the console with a pair of headphones, ethernet cord, USB 2.0, USB 3.0, and a microSD card for additional storage.
This machine is rolling out with Android 4.2.2 Jelly Bean and 16GB of internal storage. You'll find the machine appearing for a cool $249.99 USD and – again – it's shipping right this minute.