MacBook Pro Late-2013 Hands-On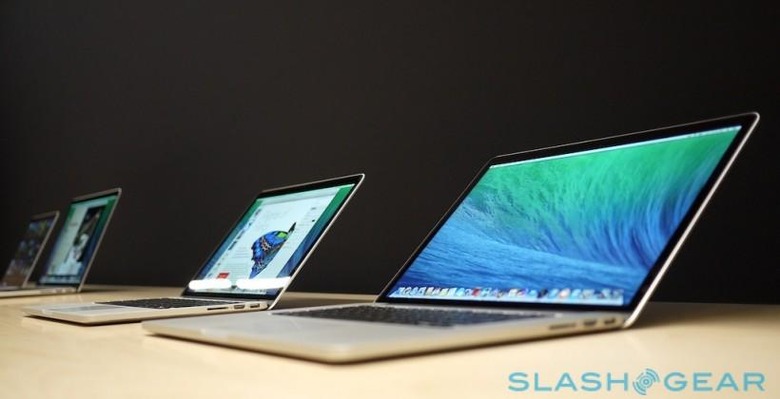 It's all-change in Mac land, and after the MacBook Air got its Haswell refresh earlier this year – to great effect – it's the turn of the MacBook Pro with Retina display to be brought up to speed. Apple's pixel-dense desktop replacement was always a powerhorse, at least in 15-inch form, but now gets Intel fourth-gen Core processors and Iris Pro graphics to deliver more grunt along with more battery life.
Outwardly, differences between the late-2013 Retina Pro's and their predecessors are minor. The display – which can be used in true "Retina" mode, where clusters of pixels are used for incredibly smooth graphics, or at a setting closer to the native resolution of the panel itself, to fit more on-screen at any one time – is still great to use, and the familiar unibody metal chassis is reasonably lightweight and certainly well made.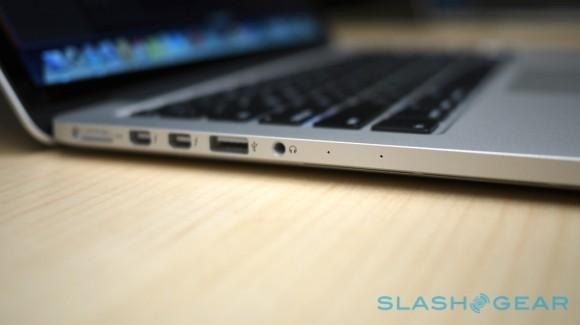 The main differences are the Thunderbolt 2 ports – which are marked exactly the same – and the pinprick addition of new microphone holes on the left side, just down from the headphone socket.
Of course, inside it's a different story. Buyers will get free copies of the iLife and iWork suites to run on the Haswell processors, which are more frugal than before which means a jump in battery life: Apple suggests up to 9hrs of iTunes video playback from the 13-inch.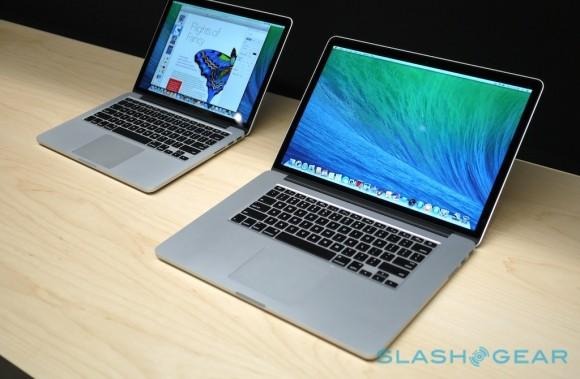 It's the graphics changes which may make the biggest impact, however. On the 15-inch, Intel Iris Pro integrated graphics will likely mean less time using the (now optional) discrete GPU, which should add up to reduced power consumption even when doing traditionally taxing tasks like video processing.
On the 13-inch, meanwhile, our biggest criticism of the notebook – that it didn't quite have the graphics potency to live up to every expectation of the "Pro" name – should also be addressed by the more capable integrated graphics.
That Apple has done all that while simultaneously dropping the price by $200 is more than impressive, and certainly raises the bar for high-end Windows 8 notebooks hoping to compete on portable power. We'll hopefully have a chance to benchmark them fully very soon.