MacBook Pro 2012 amps up with SSD and battery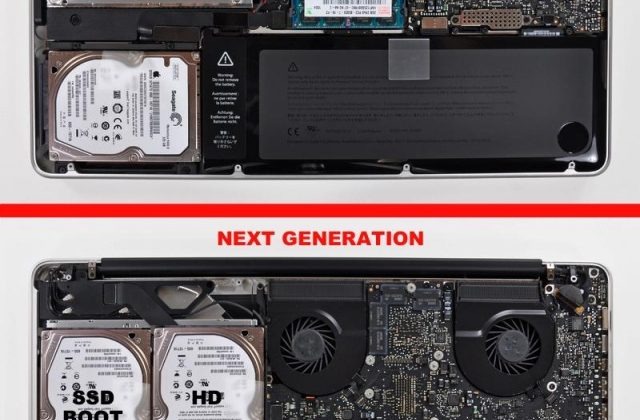 While the common rumor thus far for the new MacBook Pro 2012 models has been that they'll cut down the size to MacBook Air levels, a new tip today says that's simply not the case. What we've got here instead is a new case with no optical drive and the space that was used up by the optical drive being used for a much more gigantic battery and an SSD boot drive to take down costs for the unit substantially – that SSD being just for the OS. This notion was accompanied by the illustration you see below.
What you're seeing here is an illustration, not an actual real set of images of the casing of the MacBook Pro 2012. The top image is indeed real, the bottom is an illustration of what would happen if Apple went the way we're speaking about here. It's not unlikely that this will be the way of the truth in the very near future – Apple has presented a non-disk future in its MacBook Air models for several generations now, and with the Mac App Store live and in action for software, we'll see the MacBook Pro 2012 models hitting stores with no room for a DVD without a doubt.
What do you think of such a possibility? With all that extra battery, the MacBook Pro could potentially have a much more densely-packed set of pixels in its display or could of course allow for days of battery time without worry. With 30% more battery capacity, there's no knowing what you could do with the power. The SSD Boot Drive is just as likely – why not do such a thing with that space? Expect both of these additions this summer.
[via Reddit]