MacBook Pro 16-inch, 2019, released to stores and shipping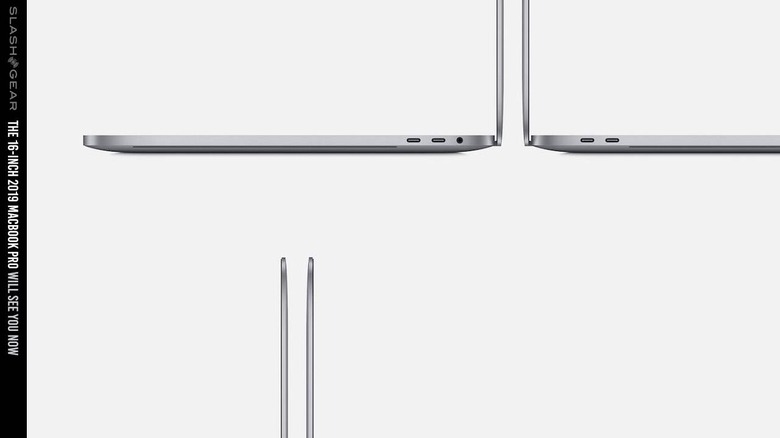 The newest 16-inch MacBook Pro (16-inch model) was made available at Apple Stores today, with a reserve system. This means you could, potentially, walk into an Apple Store without any interaction with the Apple website – but we wouldn't recommend it. If you're going to really jump in on this device and absolutely need to purchase the machine today, you're going to want to go to the Apple Store online, first.
Through Apple.com, the MacBook Pro is available in its newest iteration, the late 2019 16-inch model. The base model has a 2.6GHz 6‑core 9th‑generation Intel Core i7 processor with Turbo Boost up to 4.5GHz and AMD Radeon Pro 5300M graphics with 4GB of GDDR6 memory. You can get 16GB 2666MHz DDR4 memory and 512GB SSD storage right out the gate.
This new base (16-inch) model sports a 16-inch "Retina display with True Tone" and 4x Thunderbolt 3 ports. That's the entirety of the available ports on this device – four Thunderbolt 3 ports (aka USB-C). This model also has a Touch Bar (touch display at the head of the backlit keyboard keys) and Touch ID for fingerprint scanning security.
You can also get the highest-end version of this notebook for a cool $6,000 USD if you do so wish. That's the maxed-out version of this notebook, with 64GB of RAM and 8TB of SSD storage. This version also rolls with an Intel 2.4GHz Core 9 processor and AMD Radeon Pro 5500M graphics paired with its own 8GB GDDR6 RAM.
In any case, you'll most likely want to decide on these configuration bits before you head into a physical Apple Store. Over at the Apple webpage for MacBook Pro you'll find availability of the various configurations for this new model at your closest Apple Store. Users who pre-ordered the device will also see shipments starting today – good luck to you!