MacBook event rumor roundup; live blogging to start soon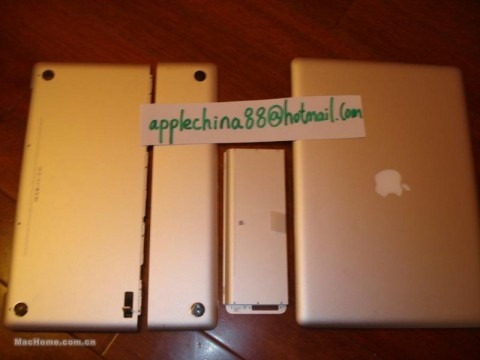 Anticipation is in the air! The Apple notebook event is set to start in under an hour and the rumor mill has continued to churn over night, it seems. Even though you can find out all the real details very soon during our Live Blog of the event, here are a few last minute rumors to further heighten the excitement.  
This new leaked photo shows off the bottom of the new Apple notebook and includes the removable battery into the mix as well. And while this is certainly interesting, there have been a few earth shaking rumors since yesterday that are really ramping up expectations. We heard there would be a glass trackpad and we even briefly heard the "brick" would be a touch tablet or an Apple TV.
But more sophisticated leaks last night are showing us Macbooks with two NVIDIA GPUs, extended battery life and a possible $899 product. This latter item may in fact be a display, not a Macbook, but we'll just have to wait and see. Last night's photos are showing off what is believed to be a MacBook Pro that features no click button on the trackpad, a MacBook Air-styled keyboard, black bezel and super glossy screen. Could this be the "metal and glass" we've been hearing about?
Enough with the speculation! The time is now. The MacBook event will be starting in just a few minutes, so be sure to point your browser to http://live.slashgear.com/ to catch all the latest news as it happens. The event starts at 10 am PST. Soon, all will be revealed and we'll be posting the news as it happens here on SlashGear as well.
[via MacRumors]