MacBook Air refresh expected in Apple stores tomorrow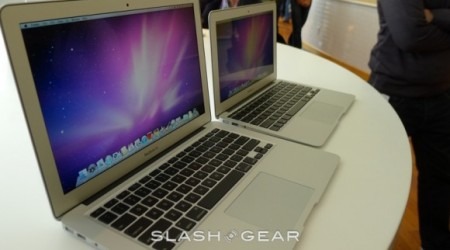 A new version of the MacBook Air is coming tomorrow, according to various sources. The newest of Apple's thin laptop has been making its way to stores, but won't be on sale until tomorrow. The newest version is said to house a new processor, which could push the battery life of the Air over the top.
Already a massive winner in the push to go as long as possible between charges, the updated MacBook Air is believed to be getting a faster Intel's Haswell processor. The newer chipset from Intel is widely adored for its power sipping technology. The current MacBook Air is running an older, less-thrifty Intel chipset — and it still gets 10-12 hours between charges.
The new MacBook is not believed to be the radical upgrade many have been waiting for. The next true iteration of the MacBook Air is said to house a Retina display, and get rid of the fan. It's also believed to be thinner, if that's even possible. A screen size update for the next Air may also be in order, with a 12-inch variety possibly making an appearance.
A new processor only adds prowess to an already great device, and could discount the current version for consumers. The new Air could also see a change in storage options, with the potential upgrade hitting both the 11-inch and 13-inch models.
Source: 9to5Mac