MacBook Air refresh arrives with slightly faster CPU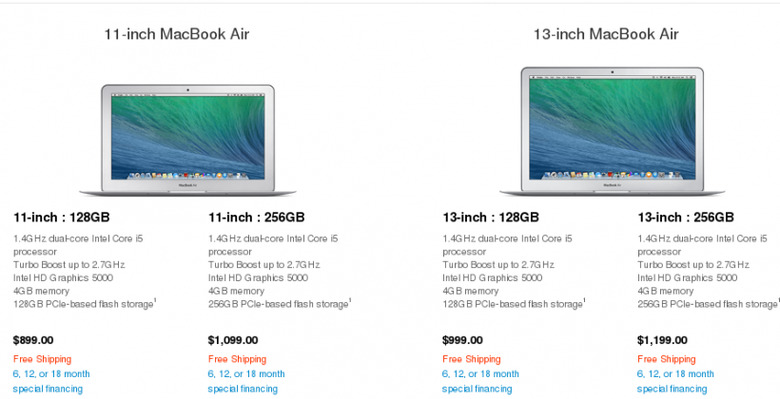 The day that many fans of Apple's ultraportables has finally arrived, though not exactly at the same time. Various Apple online stores are gradually being updated to reflect the changes in the new MacBook Air lineup for this half of the year.
Rumors of a new MacBook Air started around March, with talk, or perhaps hopes, of a Retina-infused version of the ultraportable. While that has unfortunately not come to pass, the very incremental change in the new MacBook Air models does make one wonder if a bigger thing will be coming later this year.
"With MacBook Air starting at $899, there's no reason to settle for anything less than a Mac," said Philip Schiller, Apple's senior vice president of Worldwide Marketing. "Macs have never been more popular, and today we've boosted the performance and lowered the price of MacBook Air so even more people can experience the perfect everyday notebook."
The new Macbook Air lineup doesn't really change much from 2013's specs. In fact, the only real change is in the processor. Apple has switched out the 1.3 GHz Intel i5 with a slightly faster 1.4 GHz Intel i5. It's still the same Intel Haswell architecture and even has the same HD Graphics 5000 GPU. It does come with a faster Turbo Boost speed, coming at 2.7 GHz compared to the previous 2.6 GHz. However, those are only differences in numbers, with the bigger improvements hidden deep within the metal.
Fortunately, the refresh also comes with refreshed prices. Apple has slashed off $100 from the price tag across the board, leaving the cheapest, the 11-inch MacBook Air with 128 GB of storage, now at $899 while the highest of them, the 13-inch model with a 256 GB drive, carries a $1,199 price tag. Now might be a good time to get a MacBook Air if you've been holding off purchasing one, unless, of course, you're still banking on a Retina version coming really soon.