MacBook Air, Mac Mini Revamps With Sandy Bridge Won't Launch Until Release Of OS X Lion?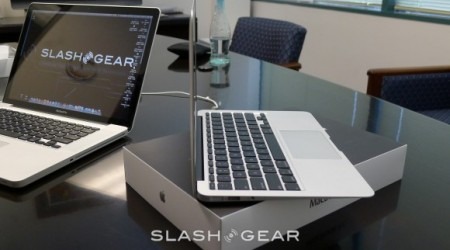 There have been reports that Apple's revamped MacBook Air will be arriving sometime later this month. The new MacBook Airs will sport Intel's latest Sandy Bridge chips as well as the super high speed 10Gbps Thunderbolt connector port. But some insider sources are now saying that Apple is holding back the release until Mac OS X Lion is ready.
Mac OS X Lion was unveiled at the Apple WWDC 2011 developer conference earlier this month. It's a major update that will bring a whole load of new features including new gesture controls, a built-in Mac App Store, an Expose and Spaces combination called Mission Control, and a iPad/iPhone-like app grid-style interface called LaunchPad. And, unlike previous versions that cost $129.99, the new OS X Lion lowers the barrier to only $29.99.
Apple Insider's sources familiar with the situation, say that Apple wants to wait until OS X Lion is done so that the new MacBook Airs can launch with the Gold Master build of Lion allowing customers to enjoy the enhanced experience on their new notebooks right off the bat. Complimentary iCloud services will also come built-in with the software.
This is reportedly also the case with the Mac Minis, which are also due for Intel's Sandy Bridge chip and Thunderbolt-equipped refresh. Mac OS X Lion is scheduled to be available by July, with developer versions already widely installed.
[via AppleInsider]