MacBook Air Dual Refresh Confirmed? 13.3" & 11.6" With Super-Fast Boot Tipped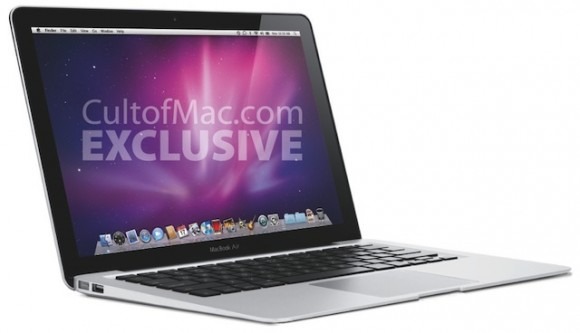 More anonymous sources have come forward with MacBook Air refresh information, corroborating leaks over the weekend about what Apple are tipped to be announcing at their "Back to the Mac" event this coming Wednesday.  According to Cult of Mac's "well-placed source", Apple is indeed readying two versions of the new MacBook Air, a direct 13.3-inch replacement to the current model and a smaller, 11.6-inch "netbook" version.
As for specifications, the source claims that Apple will offer two CPUs: a 2.1GHz processor with 2GB of RAM as standard, and a 2.4 GHz with 4GB of RAM.  Each will have an SSD, which Apple has taken advantage of to speed up boot times.  "It boots so fast, it's unbelievable" their source says, while the physical design "does not have curves. It has straight edges. It's boxier, like the iPhone 4."
Like the MacBook Pro range it has a unibody aluminum chassis though is apparently not as curvy, with a USB port on each side, a non-angled MagSafe connector, a Mini DisplayPort and an SD card slot.  The keyboard is tipped as the same black layout as the MacBook Pro, with a multitouch trackpad and integrated button underneath.  Graphics are courtesy of NVIDIA's GeForce 320M, while the battery is 50-percent bigger, delivering 8-10 hours of battery life.
Finally, pricing.  Though the source is claiming prices could be as low as $1,100 for the 13-inch MacBook Air and $999 for the 11-inch version, Cult of Mac reckon $1,400 and $1,100 respectively is more likely.  We'll be liveblogging the whole Back to the Mac event on Wednesday, so join us at http://live.slashgear.com/ for all the news as it happens.