New MacBook Air Prototype Leaks Amid SSD Card And Screen Size Speculation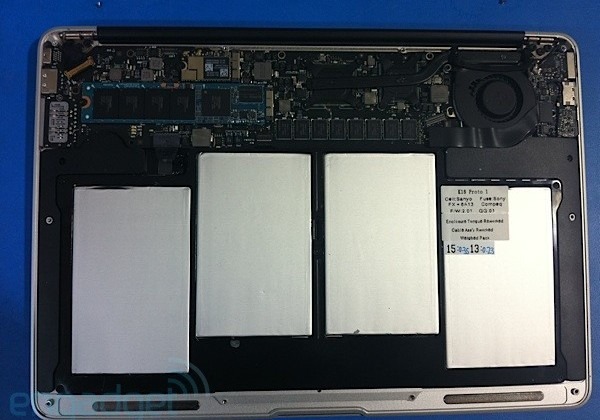 Apple's "Back to the Mac" event next week is expected to see a new MacBook Air take center stage, but the latest batch of leaks can't seem to decide on what exact form the next-gen ultraportable might take.  Engadget's anonymous tipster sent them a shot of what's said to be the guts of the new machine, with extra battery room, a 13.3-inch display (with unibody MacBook-style hinge) and no space for a regular hard-drive or SSD.  The last part chimes with AppleInsider's sources, who reckon Apple is using an "SSD Card" which packs solid-state storage into something more akin to a stick of RAM.  However, they also claim that it's "certain" that Apple has switched to a smaller display size, just 11.6-inches, and that such machines have been running off production lines for a week already.
The two display sizes could be a sign of two (or more) different SKUs within the MacBook Air range, or it could simply indicate that the company was testing prototypes with older hardware.  The source of the leaked images says this particular prototype dates from around April 2010, and is running the Core 2 Duo SL9400 CPU from the existing models.  Apple might have been using those components to test out an instant-on system with their new SSD Card storage.
As for the final hardware, that's expected to be more like the rest of the MacBook range in appearance, with a large multitouch trackpad with integrated button; however the display bezel is said to look just like the current Air.  Further sources say it has a more noticeable wedge shape in side profile.
We'll be liveblogging the whole Apple event next Wednesday, October 20, so join us at http://live.slashgear.com/ for all the details!