MacBook Air 2018 detailed with Retina display and Touch ID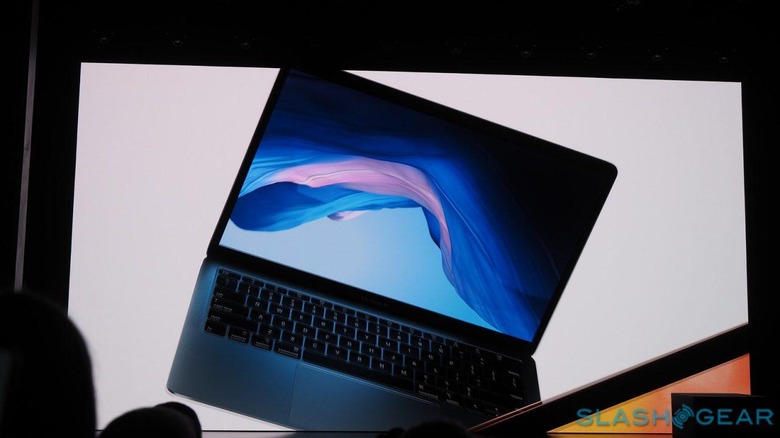 Today Apple revealed a new MacBook Air in New York City, a MacBook Air for the year 2018 and beyond. This new MacBook Air was revealed to roll with a new set of colors, including gold and silver, along with two USB-C ports and a headphone port. This MacBook Air was revealed to have a 13.3-inch display with "4 million pixels" and a 50% narrower bezel around its face.
Apple CEO Tim Cook stood on stage revealing the path the Apple desktop environment's taken over the past decade. "The Mac has become one of the creative world's most essential tools," said Cook. "macOS is the soul of the Mac. We just released macOS Mojave, and it is the best version of macOS we have ever shipped. Mojave brings new features that were inspired by our pro users but work for all of us."
Our customers love their Macs. And especially one Mac, in particular. And that is the MacBook Air," said Cook. "When Steve pulled that MacBook Air out of that envelope, it was clear that things would never be the same. It not only influenced the rest of the Mac line for years to come, but it changed the laptop industry."
"Unlike any notebook that's come before or since, MacBook Air has become the most beloved notebook ever," said Cook. "So it's time for a new MacBook Air, one that takes the MacBook Air experience even further in the areas that are important to our customers."
This new MacBook Air was shown to roll with a TouchID home button, and an Apple T2 security chip. This T2 chip brings "the most secure boot process of any notebook" said Apple's Laura Lagrove. This system brings the secure enclave, unique per-chip ID, user and filesystem keys, and secure boot.
This version of the MacBook Air seems a whole lot like the smaller MacBook Pro but... with a few more features in a MacBook Air body. This device has a "3rd-generation keyboard" with "3x more stable" butterfly mechanism hardware inside. This MacBook Air has a Force Touch trackpad that's 20-percent bigger than the most recent MacBook Air.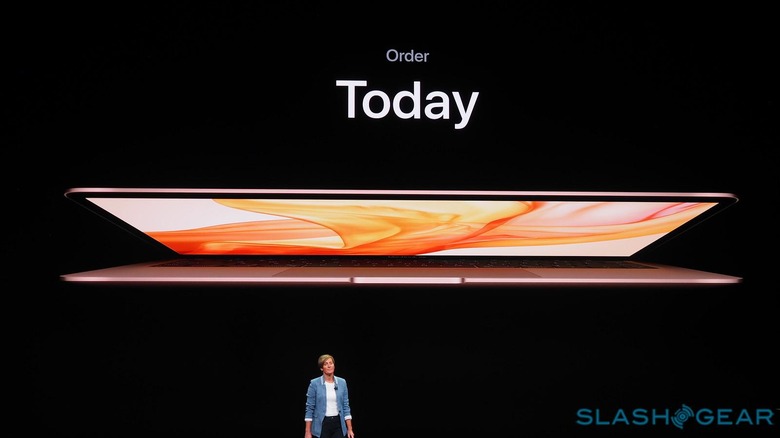 The USB-C ports on this device are also Thunderbolt 3, and as Lagrove said, "the most versatile port ever." Under the hood you'll find 8th Gen Intel dual-core CPU with integrated graphics, up to 16GB of memory, up to 1.5TB SSD. Apple suggested too that this device will have 13 hours of iTunes movie playback – which is a very weird way to say how much battery life it's packing.
This new MacBook Air for late 2018 will have a variety of prices, starting at $1199. That'll include 8GB RAM, 1.6GHz Core 15, and 128GB internal storage. This MacBook Air will be available to order starting today, and in-store on November 7th.