MacBook Air 13-Inch (Mid-2011) Teardown Reveals Replaceable SSDs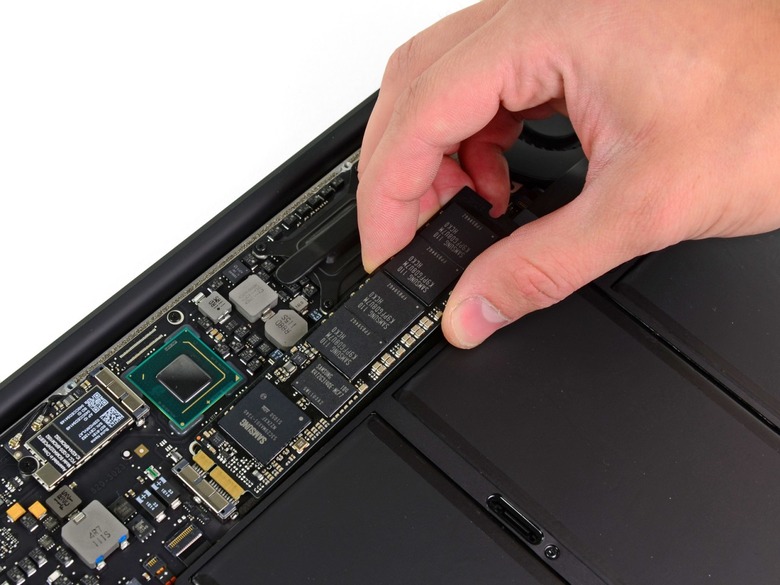 The revamped MacBook Air with OS X Lion, Intel's latest Sandy Bridge chip, Thunderbolt connector port, backlit keyboard, and boosted RAM and SSD, debuted just yesterday. And now, the iFixit team has already completed its teardown of the 13-inch Core i5 model, revealing an internal design with a replaceable SSD.
The iFixit team found that the internal build is similar to the late 2010 MacBook Air model with an SSD that isn't soldered onto the logic board. This disproves a recent rumor that the new MacBook Air's NAND flash would be soldered to its base circuit. Being easily detacheable means that you remove it yourself and replace it with a higher capacity SSD should you need more storage.
However, the RAM is not user-replaceable. So, if you're getting the 11.6-inch base model with 2GB of RAM, it's recommended that you opt for the $200 upgrade to 4GB if you know you'll be needing it.
Another interesting thing that iFixit noticed was that the use of integrated graphics with the Intel Core i5-2557M processor freed up more room for slotting in a Thunderbolt-capable Platform Controller Hub.
Overall, on a scale of 1 to 10 for ease of repair, with 10 being easiest, the MacBook Air 13-inch Mid-2011 model scored a 4. Also, make sure to check out our hands-on with the new MacBook Air and check back for our full review.
[via iFixit]