Mac shipments rise 21% as PCs decline in the US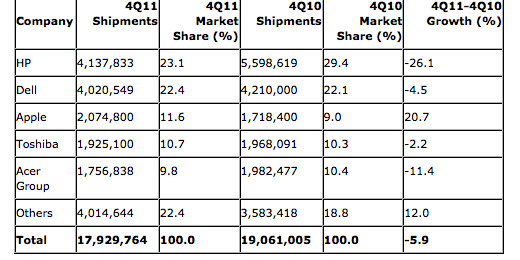 Gartner has released its preliminary data on PC shipments in the fourth quarter of 2011. Worldwide PC shipments declined 1.4 percent from the year before while US PC shipments declined by 5.9 percent with most vendors experiencing a downward slide except for Apple. Mac shipments, including both desktop machines and notebooks, rose 20.7 percent from the previous year.
HP experienced the greatest decline in US PC shipments, dropping 26.1 percent, followed by Acer with an 11.4 percent drop, Dell with 4.5 percent, and Toshiba with 2.2 percent. Overall, the US saw negative 5.9 percent growth based on data taken from the fourth quarters of 2010 and 2011. Despite this, HP maintained its number one spot with over 4 million in shipments followed by Dell and then Apple in third.
The worldwide PC shipment drop of 1.4 percent included a 16.2 percent decline from HP and an 18.4 percent decline from Acer. Lenovo and Asus rose with 23 percent and 20.5 percent, respectively, while Dell managed a 7.8 percent increase. Once again, HP retained the top spot.
Ultrabooks quietly crept in during the fourth quarter of 2011, but didn't make much of an impact on PC sales. However, with the abundance of new ultrabooks popping up at this weeks CES show, 2012 will likely be a big year for this new crop of MacBook Air-inspired notebooks. However, Gartner expects PC shipments to be temporarily lowered in the first half of 2012 due to HDD shortages caused by the October 2011 floods in Thailand.