Mac Pro iFixit Teardown: Most Repairable Apple Product Of 2013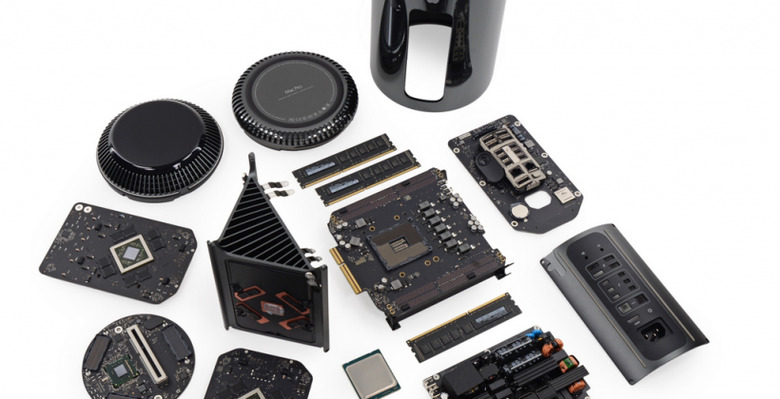 This week the folks at iFixit have taken to the Mac Pro for 2013, and under the hood they've found some extremely favorable results. In addition to finding what iFixit suggests is "the most repairable Apple products we've seen all year." While that's not exactly the same as the most repairable product they've seen all year period, it's still a real positive marker for the company.
Inside of the 2013 Mac Pro, the folks at iFixit have this week found what's quite obvious from the outside – this product looks nice and works great. In SlashGear's full Mac Pro 2013 review, we've found this desktop machine to be one of the finest we've ever laid hands on. The iFixit crew describes the 2013 Mac Pro as a "three-sided design like nothing we've ever seen before-an example of what engineers can do when they think outside the box."
Users are able to upgrade the CPU in this machine relatively easy, while there's no real room for adding new internal storage. The design inside appears to be done with the same school of thought as the AirPort Extreme and the latest Time Capsule, with a individual boards on separate sides and AMD FirePro D300 graphics cards "dominating" the view once you've popped the top.
The entire machine is tied together with a disk-shaped daughterboard at the base of the machine, one you'll find on no other machine – since no other machine like this exists as yet.
This teardown also found a variety of manufacturers rolling inside, with a 3.7 GHz Quad-Core Intel Xeon E5-1620 v2 with Turbo Boost up to 3.9 GHz at the head. There's an Intel platform controller hub, Elpida SDRAM, a PLX PCI-E switch, and Elpida GDDR5 VRAM. Samsung brings the ARM flash controller, flash storage, and 512 MB RAM. Broadcom manufactured this machine's ethernet controller, the 4-point USB 3.0 host controller comes from Fresco Logic, there's a Cirrus audio codec, and – last but now least – a Parade PS8401A HDMI jitter cleaning repeater to round it all off.
Have a peek at the short timeline below for additional insight and have a peek at this machine up close if you get the chance – it's unique!