Mac Pro CPU benchmarks bring early assurance of top-tier performance
Benchmarks for the 2013 model Mac Pro surfaced back in June. At the time there was some mixed opinions in terms of those results. The Geekbench test had returned a score of 23,901 and while that was roughly 2,000 points above the previous Mac Pro flagship — some were expecting much higher numbers based on claims by Apple.
With that in mind, it looks like further testing has revealed some higher numbers. The testing comes by way of the folks at Tom's Hardware and this time around we are seeing numbers that are more in line with the 30,000 that was originally expected. Simply put, this round of testing showed results that were in "excess of 30,000." This seems to imply the original testing wasn't telling the entire story.
Of course, those original tests were run using a 32-bit version of Geekbench. There was also mention of that testing having been done on a pre-release version of the CPU. Needless to say, this round of testing was done using a 64-bit build of Geekbench and returned numbers that were more than 25 percent higher when comparing the earlier results to these new results.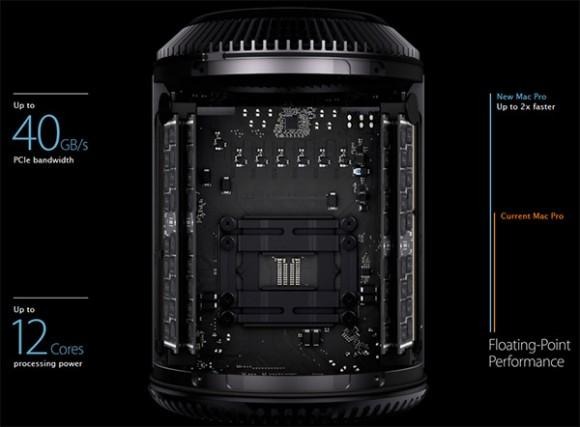 Other highlights coming out of this latest round of testing brings talk of 3D modeling and optical character recognition. On these topics it was said that 3D modelers will "seriously benefit from the potential that Ivy Bridge-EP offers to Apple's Mac Pro." Taking that a step further, that 'serious' comment includes this being run in a single-socket configuration. Otherwise, the optical character recognition testing was done with FineReader and the report highlighted the following;
"Fully-threaded optical character recognition software FineReader fully utilizes the Xeon E5-2697 V2, finishing our benchmark workload in close to half the time of a Core i7-4770K. It's even able to shave off 20% of the time from Intel's 150 W eight-core Xeon E5-2687W."
With that in mind, we have an earlier eyes-on video (sitting above) of the new 2013 model Mac Pro from when it was originally announced as well as a SlashGear 101 which offers a more in-depth look at the hardware, cooling, processor, memory, storage and more.
VIA: 9to5Mac