Mac Pro and Apple Pro Display XDR prices and 2019 release dates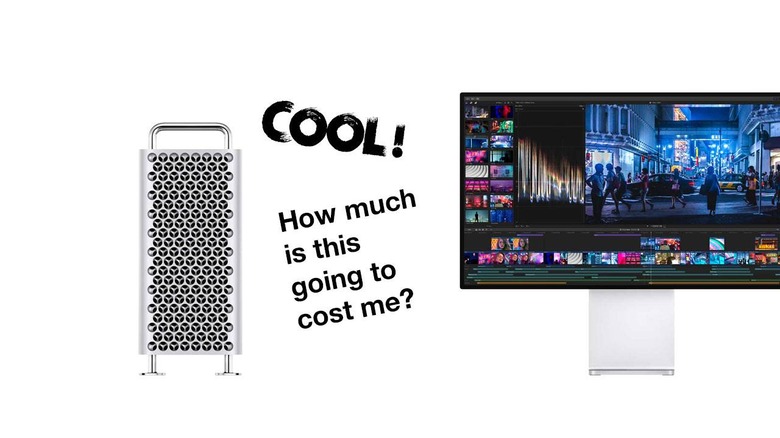 In the 2019 Mac Pro and Apple Pro Display we've got the most powerful, massive, and expensive top-end Apple computing hardware ever made. The Mac Pro for 2019 is modular, which means you'll be able to buy a bunch of different configurations, also right out the gate. To make full use of the power coming with this Mac Pro, Apple's delivered the Apple Pro Display XDR, a monitor that's also quite unique.
To easily access the innards of the Mac Pro, the unit has a single-latch release. On top of the box is a handle that swings up and turns to unlock. Once unlocked the entire exterior shell of the desktop computer pulls up and away, revealing all four sides of the Mac Pro.
So you'll be super motivated to get in that and fiddle around and think about how you could buy more graphics cards and get the most powerful version of the machine – far above any one human being's pay grade! Or something of that nature. In reality, this is an easy sell for Apple in that it takes full advantage of its massive size to deliver a classic piece of computing architecture for any professional environment. The display looks nice too.
The "all-new Mac Pro" as they call it will cost approximately $5,999 USD, starting price. That's the least expensive this computer gets, with the fewest upgrades right out the gate. This desktop monster will be "available to order in the fall."
The Pro Display XDR will be available starting at $4,999 – at its most base model configuration. There'll be a Pro Stand available for an additional $999 USD, and a VESA Mount Adapter for $199. All will be "available to order in the fall." Cross your fingers that this also means the devices will be available before the end of the year 2019 – no promises!