Mac Pro 2013 Teaser Video Suggests Launch Is Near

The Apple device known as Mac Pro was reintroduced earlier this year with a promise that it'd be delivered before the end of 2013. Today a new video spot for the machine has appeared via Apple affirming the device to be appearing "this Fall". This video trailer also affirms that the device is still small and tube-shaped, with a circle up top that Apple assures viewers represents a ring of fire, the planet Earth, a human eye, a solar eclipse, and a hurricane.
Of course this Mac Pro trailer doesn't say a whole lot about the device that we did not know already. The big news is that this is a "Cinema Ad." You'll be able to view this video spot at 1080p and it's quite likely you'll be seeing it sooner or later as massive as you like if you're the sort of person that likes to see movies on the big screen.
While it's a bit out-there to take a guess at the following, it is possible that an advertisement like this suggests that Apple is ready to move further in to the video presentation world with the recently rumored upgrade of Apple TV. How the Mac Pro has anything to do with this iTV streaming video experience, one can only guess. What is known is that the Mac Pro, in its 2013 configuration, is able to work with multiple monitors at once, with ease, right out of the box.
The Mac Pro 2013 is able to output 4K video and will more than likely be part of workstations for many next-generation at-home video editors. Placed in configurations like we saw earlier this year with Mac Staidum's 270 Mac Pro Server Rack, professional users will also take advantage of this small build.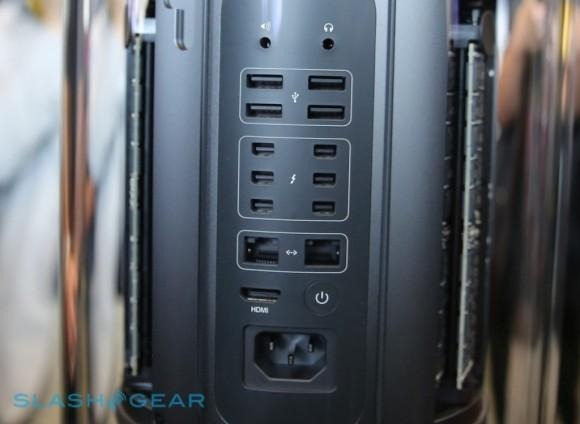 This device is able to drive up to three 4K displays at the same time – or an array of standard monitors with its many Thunderbolt ports. Have a peek at our original SlashGear 101: Mac Pro 2013 for more information on this desktop computer appearing in stores later this year.