Mac OS X Lion Developer Preview Released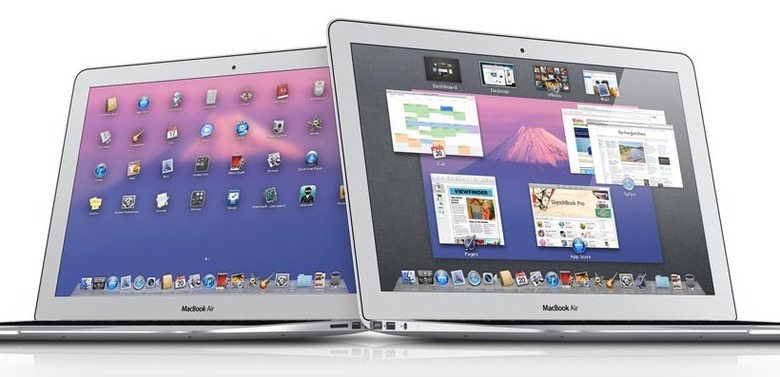 While the new MacBook Pro line-up delivers the Sandy bridge update consumers have been clamoring for, Apple has something for developers too. The new developer preview of Mac OS X Lion has been released, adding full-screen app support, pinch and double-tap zoom in Safari – some of the multitouch gestures borrowed from OS X – a document saving system called Versions (which automatically saves successive versions of documents as you work on them) and AirDrop, a wireless file transfer system for drag & drop moving of documents between Macs.
There's also Resume, which automatically brings you back up to speed with the apps and documents you had open after a reboot, along with Mission Control, a bird's-eye view of of open windows grouped by app, thumbnails of full-screen apps, and Dashboard. Mail 5 has an updated UI to take advantage of widescreen displays, and there's Conversations (Apple's name for threaded messages).
"With AirDrop in Mac OS X Lion, you can send files to anyone around you —  wirelessly. AirDrop doesn't require setup or special settings. Just click the AirDrop icon in the Finder sidebar, and your Mac automatically discovers other people nearby who are using AirDrop. You'll even see contact photos for those who are already in your Address Book. To share a file, simply drag it to someone's name. Once accepted, the file transfers directly to the person's Downloads folder. When you're done with AirDrop, close the Finder and your Mac is no longer visible to others." Apple
Apple has also integrated OS X Server into a single SKU; Lion Server is built into the client version of the updated OS. If you're a developer you can check out all the changes and new features here at the updated checklist; the release itself will be seeded through the Mac App Store.
Press Release:
Apple Releases Developer Preview of Mac OS X Lion

CUPERTINO, Calif.–(BUSINESS WIRE)–Apple® today released a developer preview of Mac OS® X Lion, which takes some of the best ideas from iPad™ and brings them back to the Mac® for the eighth major release of the world's most advanced operating system. Lion features Mission Control, an innovative new view of everything running on your Mac; Launchpad, a new home for all your Mac apps; full screen apps that use the entire Mac display; and new Multi-Touch™ gestures. Lion also includes the Mac App Store℠, the best place to discover, install and automatically update Mac apps. The Lion preview is available to Mac Developer Program members through the Mac App Store today, and the final version of Lion will ship to customers this summer.

"Developers are going to love Mission Control and Launchpad, and can now start adding great new Lion features like full screen, gestures, Versions and Auto Save to their own apps."

"The iPad has inspired a new generation of innovative features in Lion," said Philip Schiller, Apple's senior vice president of Worldwide Product Marketing. "Developers are going to love Mission Control and Launchpad, and can now start adding great new Lion features like full screen, gestures, Versions and Auto Save to their own apps."

Mission Control is a powerful, entirely new feature that unifies Exposé®, Dashboard, Spaces®, and full screen apps to give you a bird's eye view of every app and window running on your Mac. With a simple swipe, your desktop zooms out to display your open windows grouped by app, thumbnails of your full screen apps as well as your Dashboard, and allows you to instantly navigate anywhere with a click.

Launchpad makes it easier than ever to find and launch any app. With a single click, Launchpad displays all your Mac apps in a stunning full screen layout where you can launch, re-order or organize apps into folders. You can also arrange apps into multiple pages and swipe between them.

Lion brings the full screen experience that iPad users love to the Mac. With one click, your application window goes full screen, taking advantage of your Mac's brilliant display. You can swipe from one full screen window to another and even back to your Desktop or Dashboard.

New Multi-Touch gestures and fluid animations give you a natural and intuitive way to interact with your Mac. New gestures include pinching your fingers to zoom in on a web page or image, swiping left or right to turn a page or switch between full screen apps and swiping up to enter Mission Control.

Lion also includes the Mac App Store, where you can find great new apps, buy them with your iTunes® account, and download and install them in just one step. Apps purchased from the Mac App Store are installed directly into Launchpad.

Additional features in Lion include:

A new version of Mail, with an elegant, widescreen layout inspired by the iPad; Conversations, which automatically groups related messages into one easy to read timeline; more powerful search; and support for Microsoft Exchange 2010;

AirDrop, a remarkably simple way to copy files wirelessly from one Mac to another with no setup;

Versions, which automatically saves successive versions of your document as you create it, and gives you an easy way to browse, edit and even revert to previous versions;

Resume, which conveniently brings your apps back exactly how you left them when you restart your Mac or quit and relaunch an app;

Auto Save, which automatically saves your documents as you work;

The all new FileVault, that provides high performance full disk encryption for local and external drives, and the ability to wipe data from your Mac instantaneously; and

Mac OS X Lion Server, which makes setting up a server easier than ever and adds support for managing Mac OS X Lion, iPhone®, iPad and iPod touch® devices.

Apple designs Macs, the best personal computers in the world, along with OS X, iLife, iWork, and professional software. Apple leads the digital music revolution with its iPods and iTunes online store. Apple is reinventing the mobile phone with its revolutionary iPhone and App Store, and has recently introduced its magical iPad which is defining the future of mobile media and computing devices.