Mac App Store hits 10,000 Apps: here's the best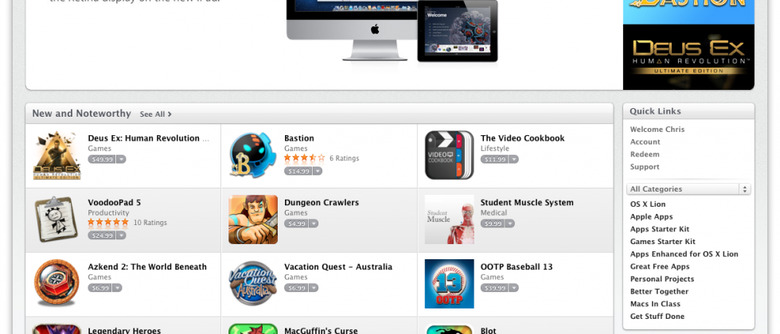 As the Mac App Store passed 1 year in business earlier this year, so too has the store this month passed the 10,000 applications – with some surprising entries sitting at the top of the charts this week. Some unsurprising entries into each of the three "top" lists on the Mac App Store are Apple-made apps OS X Lion, iPhoto, and Keynote. You'll find several apps you may have never heard of before today as well, especially in the "Top Free" section of the store. This digital app store is distributed with all Mac OS X installs, and takes cues from the iTunes App Store on how the software business is evolving to a click-and-download model as fast as you can say environmentalism.
Up in the "Top Paid" section you'll find the ultra-popular mobile-first game Angry Birds – but not the original. Instead it's the Angry Birds Space expansion that's crushing most of the rest of the world of paid apps for downloads – even at $4.99 a pop! There's also iMovie which, while distributed with new Apple computers, is here downloadable for $14.99, and an app by the name of Wallpaper Wizard – this proving that no matter how easy it is to do something manually (like search for "kitty cat wallpaper" on the web), an easy-to-download app to do it for you will always win out.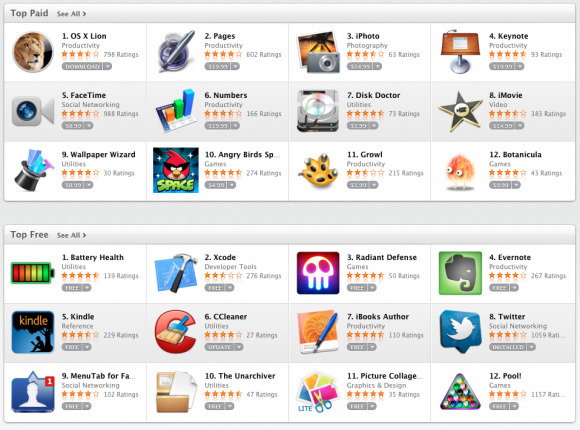 It should be no surprise then that the "Top Free" apps are filled with such utilities as Xcode for developers, Evernote for taking notes, and Battery Health – for seeing how much battery life you have left on your computer. There's also new-world entries like iBooks Author introduced earlier this year and "The Unarchiver" which works with zip files and the like. Radiant Defense is, believe it or not, the only game in the free pile inside the top 10!

"Top Grossing" is another matter entirely. Here you've got apps that are not only costly – like $19.99 or more here in the top spots – they're selling in big amounts as well. Final Cut Pro is the iMovie you wish you had, Aperture is the king where iPhoto is the peasant, and, again unsurprisingly, OS X Lion tops this chart as well. You'll see on the other hand that iPhoto is out-selling Aperture and that iMovie is in the 10th spot though Final Cut Pro is in second overall. Note here that a game did make it into the top 12, Deus Ex making it into the 11 spot here in the spring of 2012.
Which apps have you downloaded from the Mac App Store? Is this where you upgraded to OS X Lion from? What do you think of Apple's app sales model?