Apple App Store Hits 10 Billion Downloads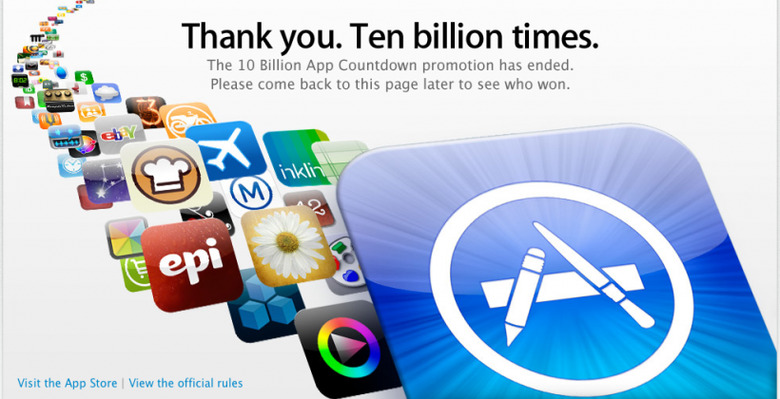 As of today, 10 billion apps, thats ten BILLION individual apps have been downloaded from the Apple App Store. The person who fired off the ten billionth download will be receiving a $10,000 USD iTunes Gift Card that can be redeemed for anything in the iTunes store or the App Store including apps, music, audiobooks, television shows, and movies. Supposing the 10 billionth person was a person buying up every app in the world in order to be the magic number last, can you imagine them even having anything left to buy, much less $10,000 worth of digital downloads?
Another bonus the final person might be receiving is either a $1,000 or $5,000 gift card from MacPhun supposing they downloaded either a photo app or specifically the FC Photo Studio app – what are the chances it's either one of these? We imagine the chances are slim. Good sales tactic then, eh?
And lets talk for a moment about the number 10 billion. That's huge, especially considering the only comparable number to be coming from the Android Marketplace which, if current projections are right, should be at right around 2,750,800,000. Will the marketplace ever eclipse the market? Currently it appears that another thousand apps are downloaded every 9 seconds in the Android Marketplace while every 3 seconds another 1,000 apps are downloaded in the App Store.
Is this accurate? I'd say sort of. The counter on AndroLib appears to be going at a more random rate than Apple's did, which I'd guess is closer to the truth, but is also based on an estimate. What do you think – will the Android Marketplace ever overtake the App Store?
Press Release:
Apple's App Store Downloads Top 10 Billion

CUPERTINO, California—January 22, 2011—Apple® today announced that more than 10 billion apps have been downloaded from its revolutionary App Store℠ by the more than 160 million iPhone®, iPod touch® and iPad™ users worldwide. The 10 billionth app downloaded, Paper Glider, was purchased by Gail Davis of Orpington, Kent, UK. As the winner of the App Store Countdown to 10 Billion Apps, Gail Davis will receive a $10,000 iTunes® Gift Card.

"With more than 10 billion apps downloaded in just two and a half years—a staggering seven billion apps in the last year alone—the App Store has surpassed our wildest dreams," said Philip Schiller, Apple's senior vice president of Worldwide Product Marketing. "The App Store has revolutionized how software is created, distributed, discovered and sold. While others try to copy the App Store, it continues to offer developers and customers the most innovative experience on the planet."

The revolutionary App Store offers more than 350,000 apps to iPhone, iPod touch and iPad users in 90 countries around the world, with more than 60,000 native iPad apps available. App Store customers can choose from an incredible range of apps in 20 categories, including games, business, news, sports, health, reference and travel.

Apple designs Macs, the best personal computers in the world, along with OS X, iLife, iWork, and professional software. Apple leads the digital music revolution with its iPods and iTunes online store. Apple is reinventing the mobile phone with its revolutionary iPhone and App Store, and has recently introduced its magical iPad which is defining the future of mobile media and computing devices.