Luxa2 H4 iPad Holder Review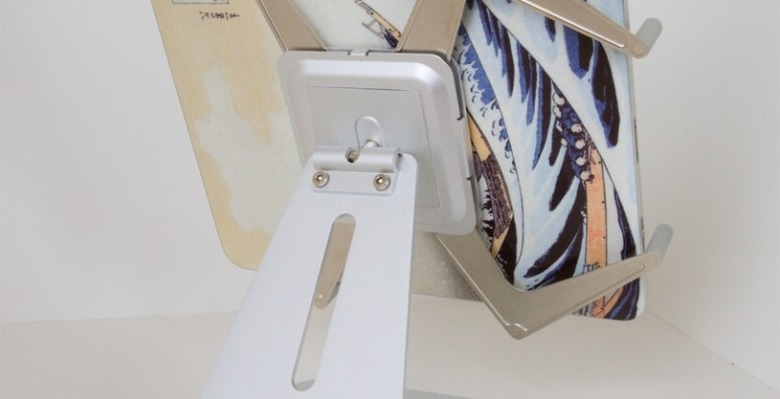 Try holding the iPad out in front of you for any significant length of time and you'll likely discover that Apple's tablet doubles as a decent arm exercise as well as a tactile, multitouch marvel. We've already seen one budget alternative – crafting a DIY stand from the packaging the iPad ships in – but unsurprisingly there's a growing market for third-party holders. On the SlashGear desk today is the Luxa2 H4 iPad Holder; check out the full review after the cut.
The H4 concept is simple: an iMac-like base supports a tilting, rotating cradle assembly with four posable arms. At the extremities of each arm there's a rubberised peg which – by sitting the iPad in the middle and pushing the arms closed – can tightly grip the tablet without scratching it. iPad removed and it looks a little like a headless acrobat performing jumping-jacks, but the benefit to the overly-flexible adjustment is that you needn't remove your tablet from its case; the H4 will grab on even if there's a little extra bulk to accommodate.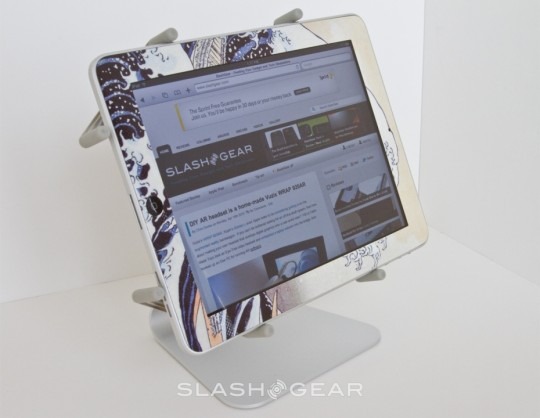 Once in, since there are only six small points of contact, there's plenty of room to access the iPad's minimal controls and ports. The slotted base allows you to route an iPad sync cable neatly through, and – like the arms – all the edges are sufficiently smoothed off that we wouldn't worry about either iPad or cables getting scratched or sliced with regular use.
As well as portrait orientation, the H4 grip swivels for using the iPad in landscape orientation; it's great for watching videos without having to hold or prop up the screen. The pivot is stiff enough to hold the iPad in place, but not so much as to make rotating it difficult. It's actually possible to turn it a whole 360-degrees, though since the top edge lacks any grips you probably wouldn't want to leave it in that orientation lest the iPad drop out. Meanwhile the hinge means the iPad can tilt back so that the screen is entirely flat, useful for two-player games, or flip completely over to face whoever you're sat opposite.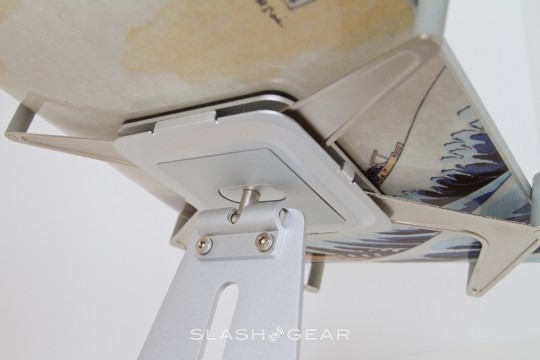 Stability is good, with a decent sized base plate – atop rubber feet – and the whole stand tipping the scales at just under a pound. Unless you're overly aggressive with your taps, we wouldn't worry above the H4 toppling over in regular use. It's also worth noting that Luxa2 don't just recommend the holder for Apple's iPad but as a Kindle DX stand, too.
So, flexible, posable and pretty; what's not to like? Well, the rubber pegs aren't exactly the most attractive of things, clustering around the display, but beyond that it's hard to argue too much with either the H4 or the roughly $50 price tag Luxa2 have attached to it. Admittedly it's considerably more than the basic $29 Apple iPad Dock, which will also charge and sync your tablet, together with offering an audio-out socket, but the official dock's biggest issue is its absence of landscape orientation support. Similarly, while $19 more than the H4 will get you an Apple iPad Keyboard Dock – with its integrated QWERTY – you're still limited to working in portrait orientation.
DIY iPad docks are great, and often cheap, but if you're looking for an off-the-shelf option then the Luxa2 H4 iPad Holder fits the bill. Wide degrees of flexibility and sturdy build make it not only a great way to keep your iPad raised up from the detritus on your desk, but also for media and ebook consumption.
Update: Luxa2 tell us that the H4 is expected to hit the retail market in early May 2010