Lumus' new smart glasses displays are AR for everyone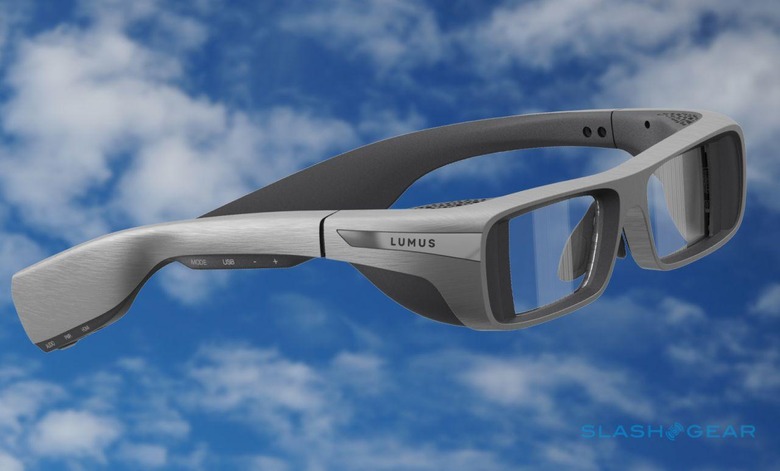 Smart glasses are coming, and since augmented reality wearables need to be closer to designer sunglasses than they are to Google Glass, transparent displays need to raise their game. That's just what smart eyewear display specialist Lumus is doing, bringing along its latest Sleek display prototype to CES 2019 this week to show how AR could have mass-market appeal.
The goal, unsurprisingly, is to put transparent displays into eyewear that wouldn't look out of place racked next to traditional eyeglasses and sunglasses. For that Lumus' latest consumer focused side-mounted optical engine has a much smaller footprint, and is less bulky too.
"One of the major improvements we've made, we've done a lot more about 2-axis expansion," Ari Grobman, CEO of Lumus, explained to SlashGear exclusively ahead of the show. "It's basically how the waveguide expands the image on one axis, but also while you expand the projection into the waveguide."
The result is a smaller projection unit, but without necessarily compromising on what the wearer sees. This new Lumus Sleek design still delivers 720p resolution graphics in each eye, and with a 40-degree field-of-view. Grobman suggests even bigger improvements are just at hand, promising "a quantum leap in field-of-view" and form-factor in the second half of the year or toward the end of 2019. That could mean 50-degree FoV but with an even smaller projection.

Still, while the tech projections might show full vision, binocular AR as the way the future is mapped out, Grobman says that a more focused version is also unexpectedly gaining traction again. A demand for binocular displays has picked up over the past year.
"Single eye is actually making a comeback now," Grobman explained. "As the manufacturer of the optical engine, we see varying approaches to the market. Some want something really slimmed down – even as small as a monocular engine, potentially with an even smaller field-of-view – there is that side of the market that wants the minimally viable product, say "AR Lite." What Google Glass should've been."
The biggest question, of course, is just when we'll actually see true augmented reality glasses on the market – and under which brand. Lumus doesn't make the eyewear, only the displays for it, and the company won't be drawn on which companies it supplies. Still, Grobman would say that a pilot production line with partner Quanta is already running, and that the main line will begin operating in the next several months. Even that pilot line, though, has given the company something to demonstrate.
"One of the big surprises a lot of the Tier 1's have been getting – as we move forward and take these customers to visit the production line at Quanta – [is] it's not just performance, it's not just form-factor, but we actually have the advantage when it comes to manufacturability," Grobman says. As for who may have paid those visits, "assume the usual suspects," is all he'll commit to. "Pretty much any major Tier 1 who has any intention of going into AR over the next few years" has had the tour.
When, therefore, might we be able to buy a set ourselves? Again, Lumus doesn't control that roadmap, and indeed the company argues that it's not the pinch-point for the wearable form-factor.

"2019 is still possible with some of the companies we're talking to, doing much more modest soft launches," Grobman says. "But when we're thinking of Tier 1, real consumer brands and real adoption, the timelines we're working with... really, we're not the bottleneck here at all. Really, it's the process of getting the rest of the product in line, the software and the interface, that's the bottleneck."
"Theoretically, I could say the holiday season of 2020," he suggested, for a mass-market launch with 1m+ sales expectations. "But that could easily slip through to early or mid-2021."
Whenever it happens, you should probably set aside the same sort of lump sum as you'd spend on a smartphone today. Current AR products, like Microsoft HoloLens and Magic Leap, command price tags in the several thousands, admittedly for what are developer-focused devices. Consumer versions should – and will need to be – more attainable.
"I think everyone's goal was to keep it at smartphone pricing," Grobman suggests. "A full, all-in-one system – whether it's going to be a peripheral to a smartphone, or whether it's going to be embedded – it's going to be akin to the price of a smartphone." In an age of $1k+ iPhones, of course, that isn't quite the promise of tech affordability it once was.
Still, it's not hard to see the enthusiasm building in AR wearables. Companies like North are betting on being in the space early, while Snap is believed to be readying a set of advanced smart glasses of its own. Market behemoth-in-waiting remains Apple, undoubtedly, which has more than a few reasons – slowing demand for iPhone being one of them – to push the category. The latest rumors there pegged 2020 as being ARKit's time to shine with its first consumer set of augmented realty goggles.
Which of the contenders will use Lumus' technology remains to be seen. The company has no shortage of boasts – "we are the industry benchmark" for image brightness, resolution, clarity, color uniformity, and field-of-view, Grobman insists – though it's not the only player in the game. Meanwhile AR demands new content and experiences in order to sell itself: having display technology that makes for almost unremarkable eyeglass designs is only one small part of the battle.
Those experiences will take time to develop. That leaves Lumus time to deliver on its promises of more field-of-view and more brightness, all with less power consumption, of course. And while consumer devices won't necessarily look exactly like Lumus' upgraded Sleek prototype, the core advantages pave the way for AR eyewear with both geek- and sex-appeal.