Lumia 830 Render Shows Nokia By Microsoft Branding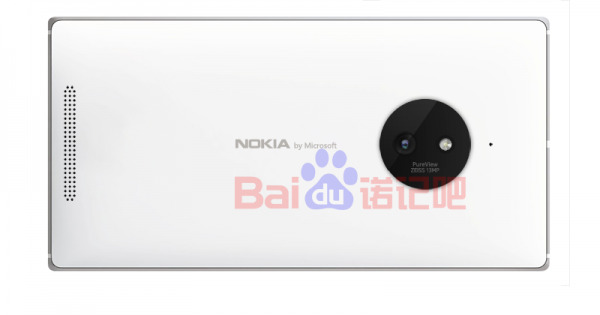 Nokia, which still exists as a non-smartphone-making Finnish company, might slowly be giving up its hold on "Nokia" smartphones. This might very well start with the rumored Lumia 830, which, based on this leaked render of its backplate, still shows the company's name, but now affixed with "by Microsoft", hinting at how Redmond plans to transition the branding from Nokia to purely Microsoft.
To be clear, this is a render, not an actual photo, of the smartphone's back cover. However, it is supposedly the design that will be used in the device's production. It is no secret that Microsoft will slowly be weaning people over to the fact that it is now making the smartphones formerly known as Nokia's, but exactly when and how it plans to do this is still unknown.
That said, the alleged Lumia 830 that surfaced last week in leaked photos don't bear this mark. In fact, the name of Nokia stands alone on the upper-right corner of the device's face. The back, on the other hand, is clean of any marking, and the only distinctive feature there is the PureView-like rear camera setup. However, this Lumia 830 might very well be a very early prototype, or that Microsoft hasn't settled down on the "by Microsoft" moniker just yet.
However, the Lumia device pictured before might not be a Lumia 830 at all. The Lumia 830 is rumored to come with a 4.5-inch screen and, even with a PureView camera, only a 13 megapixel shooter. The smartphone in the photo could have also been a Lumia "McLauren", more a descendant of the Lumia 1020, with a normal 41 megapixel PureView and a 5.2-inch display.
Of course, it could very well be that the leak isn't accurate or, even if it were, won't be the final design. "Nokia by Microsoft" would indeed sound like an easy transition between brands, but Microsoft might just as well opt to immediately jump to a "Microsoft Mobile" branding just as it already does on Nokia's presence on the Web.
VIA: Windows Blog Italia