Lumia 830 Photos Leaked, No Microsoft Mobile In Sight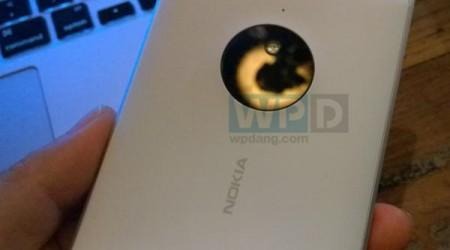 Microsot's IFA 2014 event is just a day away, so naturally we are still getting last minute leaks and rumors about devices. The other day, it was the "selfie" Lumia 730 but now it's the Lumia 830's turn. While this supposed actual device does seem to confirm its PureView heritage, it does disprove earlier rumors of a more Microsoft-friendly branding.
One of the earliest 3D renders for the upcoming Lumia smartphone showed labeling that would indicate that Microsoft, particularly Microsoft Mobile, is now in charge. That, however, doesn't seem to be the case here, with the Nokia name clearly emblazoned on the Lumia 830's back cover. That same back cover, however, still shows the peculiar marks of a PureView camera, here rumored to reach 10 megapixels in size. And again that back cover, while removable, is claimed to support wireless charging.
In terms of design, the Lumia 830 seems to be poised as a premium Windows Phone device, at least compared to its more colorful, plastic, and blocky siblings. Here, there's a touch of silver, some hardness around the edges, and a rather flat rear. One thing that does stand out in this form is the micro USB port, which is located to the top and left edge of the smartphone. The center spot is now occupied by the headphone jack instead.
As for specs, the Lumia 830 here is shown with a Qualcomm MSM8926, which is a Snapdragon 400 and not the 800 rumored earlier. The screen resolution, however, is said to reach 1280x720, though the size still isn't confirmed whether it is 4.5 inches or 4.7. The smartphone will also support 4G networks, so there shouldn't be any worries when it comes to connectivity options. All these, sometimes conflicting, rumors and leaks will finally be put to light once Microsoft walks on stage September 4.
VIA: WPDang