LTE HTC Thunderbolt supposedly detailed: 1.2GHz dual-core & twin 8MP/5MP cameras? [Updated]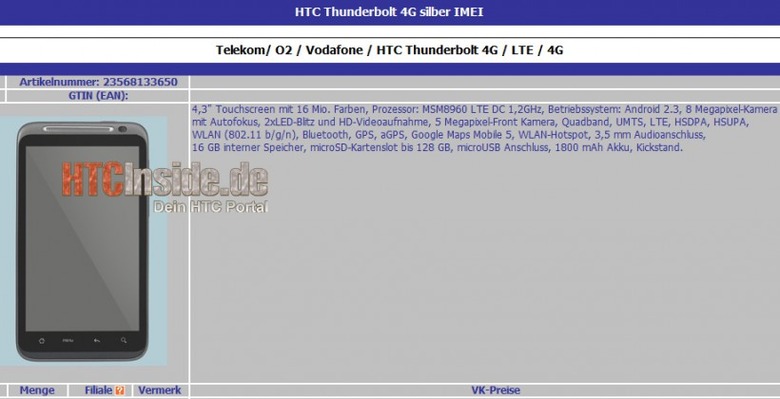 The LTE-packing HTC Thunderbolt smartphone will supposedly be seeing a European release as well as availability on Verizon in the US, if a leak supposedly from a German retailer's systems is authentic. According to HTCInside, the Thunderbolt has a 1.2GHz dual-core MSM8960 processor and both 8-megapixel (rear) and 5-megapixel (front) cameras, and is headed to German carriers O2, Deutsche Telekom and Vodafone in 2011.Update: Something to be cautious about: the MSM8960 supposedly found inside the Thunderbolt isn't expected to arrive until 2012. Either the chip has been mis-labeled, or it's a sign that this isn't entirely legit.
Other specs include a 4.3-inch display, Android 2.3 Gingerbread as the OS and 1080p Full HD video recording and playback. There's also supposedly a microSDXC memory card slot, capable of boosting the Thunderbolt's 16GB of internal memory with up to 128GB cards.
We'll have to wait and see whether these ambitious specs pan out when Verizon announce the Thunderbolt at CES 2011 next week. Still, if true then it looks to be a worthy contender to Tegra 2 rivals such as the LG Optimus 2X.
4.3-inch display 16.78 million colors
Android OS 2.3 Gingerbread
Qualcomm MSM8960 dual-core processor 1.2 GHz
8-megapixel camera (primary)
5-megapixel camera (secondary)
1080p Full HD video recording and playback
GSM / Quad Band | GPRS / EDGE / 3G / HSPA / LTE
WLAN 802.11 b / g / n
Kickstand
Bluetooth
16GB Internal Memory | Expansion per 128GB microSDXC
Battery 1800 mAh