Lotus Exige Cup 430 Type 25 packs power and aero in a limited edition package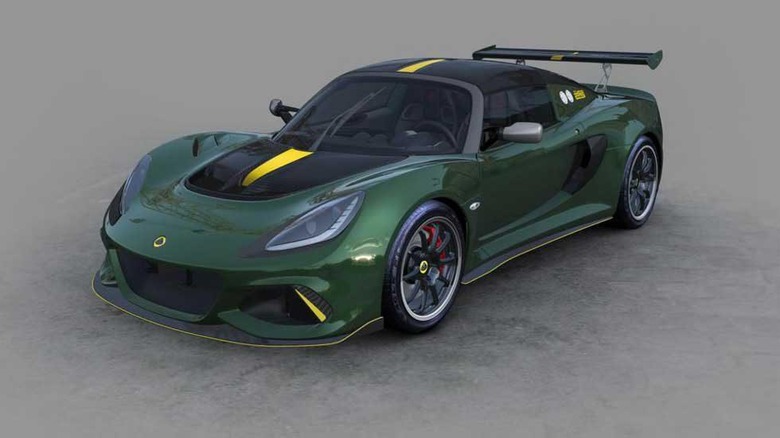 Lotus has unveiled a special edition of the Exige Cup 430 we talked about last November that is a very limited-edition model. The car is called the Exige Cup 430 Type 25 and it is meant to celebrate one of the most successful and influential F1 cars ever made. Only 25 units will be built in either green or white liveries.
Power comes from a supercharged 3.5L V6 engine that makes 430hp and 440 Nm of torque. That is enough grunt to push the car from 0 to 60 mph in 3.2 seconds. Lotus also fits the car with serious aerodynamics that generates up to 220 kg of downforce.
Lotus will include a signed hardcover copy of the book Jim Clark: Tribute to a Champion by Eric Dymock signed by Clive Chapman, and Bob Dance, a principal mechanic for Jim Clark. The two liveries are in Lotus Racing Green or Old English White with contrasting striping. Top speed for the car is 180mph.
Lotus says that it went around the Hethel test circuit in 1 minute and 24.8 seconds. The car is made for the road but has a track focus. Aero bits include a carbon front splitter with trailing lip and new air curtain elements on the front clam panel to move air through the wheel cavities.
Large cutouts behind the rear wheels reduce arch pressure and boost downforce. The rear wing is a high-set unit and the car has a rear diffuser as well. The standard transmission is a 6-speed manual and the car has variable traction control that can be switched off. Pricing is unannounced and the Exige isn't offered in the US.
SOURCE: Lotus