Amazon has launched its Local Register card reader for retailers, taking on Square in the mobile payments space with what the online behemoth claims are segment-besting rates. Amazon's dinky dongle plugs into the headphone jack of an iPhone, iPad, or Android tablet – including, unsurprisingly, the company's own Kindle Fire HD and HDX – and accepts swiped credit and debit cards, though you'll have to pay upfront for the reader itself.
That's in contrast to Square, which gives away its reader free to new account sign-ups. Amazon wants $10 apiece for each of the stubby black adapters.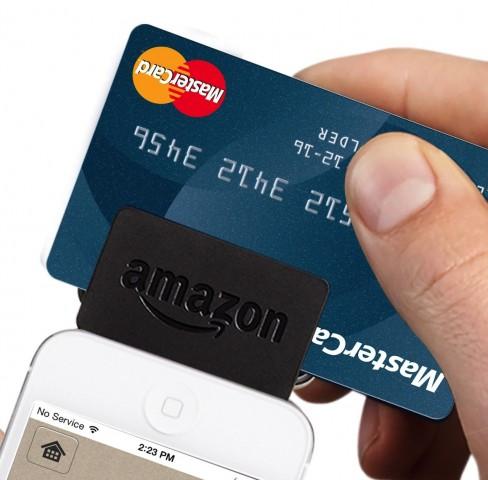 Still, it's ongoing rates for transactions that most vendors will be curious about, and there Amazon claims to have an edge.
Those who sign on before the end of October this year will get a "special rate" of 1.75-percent for each swiped transaction, running through to the end of December 2015.
As of January 1st, 2016, that will rise to 2.5-percent. In contrast, Square charges 2.75-percent, while Paypal Here comes in at 2.7-percent. Manual, keyed payments are higher, at 2.75-percent on Amazon, but still lower than its rivals offer.
There's also no monthly fee, ongoing contract, refund or chargeback fees, or international card charges, and Amazon says it'll automatically deposit the cash into your nominated account the following day.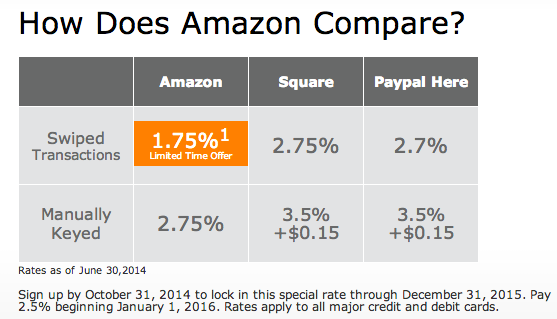 Unfortunately, while the basics seem good, the early feedback from users isn't quite so glowing. For a start, Amazon apparently requires that any Local Register users set up a new account – they can't simply add the mobile payment dongle to their existing merchant account, for instance – and the app itself is described as slow and clunky in comparison to Square's software.
That could prove frustrating to customers, while merchants are dissatisfied with the limited number of tested devices the software actually works with. Amazon lists the iPhone (5s, 5, 5c, 4s, and 4), Samsung's Galaxy S5, S4, and S3, and the iPad, iPad mini, and Kindle Fire HD and HDX. Conspicuously absent is Amazon's own Fire Phone.
Still, Bezos & Co. are likely to address those issues in time, and retailers may well forgive the patchy start in return for more favorable rates.
SOURCE Amazon