Logitech's K840 is a mechanical keyboard for the rest of us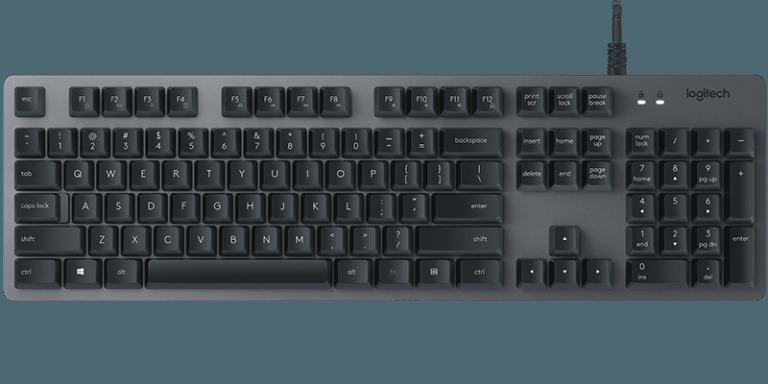 There's nothing quite like the satisfying "clack" of a mechanical keyboard, but these days, they seem to mostly be the domain of gamers. It's true there are some mechanical keyboards out there that aren't outfitted with RGB backlights and a design that screams "I'm a gamer," but those can feel few and far between. Logitech has an answer to that problem with its new K840 mechanical keyboard.Announced on the heels of the Logitech G413, the K840 is a mechanical keyboard for those who want that clack without the flair. In fact, there's nothing particularly eye-catching about it – it's simply a black keyboard with white lettering. The main draw is unseen at a glance, as it comes in the form of Logitech's own Romer G switches.
These are the switches that Logitech developed in-house to compete against Cherry's popular mechanical switches. Logitech says these switches will last over 70 million keystrokes, giving the K840 some degree of expected longevity. Beyond that, the switches serve to elevate the keys, perhaps making the K840 more comfortable to type on for some folks.
Of course, this keyboard isn't just made for office workers who would like a more subdued design. If you're a gamer and you can do without things like LED backlighting, there are still some features here for you. Those include programmable function keys, a Windows key lock, and 26-key rollover.
The K840 is available now, but like other mechanical keyboards, it comes with a higher cost than some may be used to. Logitech is asking $79.99 for this keyboard, which is $10 less than the G413. While that isn't exactly cheap, it isn't nearly as expensive as some other mechanical keyboards out there, and Logitech is even willing to toss in free shipping for those who are on the fence. Take a closer look by checking out the source link below.
SOURCE: Logitech