Logitech Ultrathin Keyboard Cover for iPad Review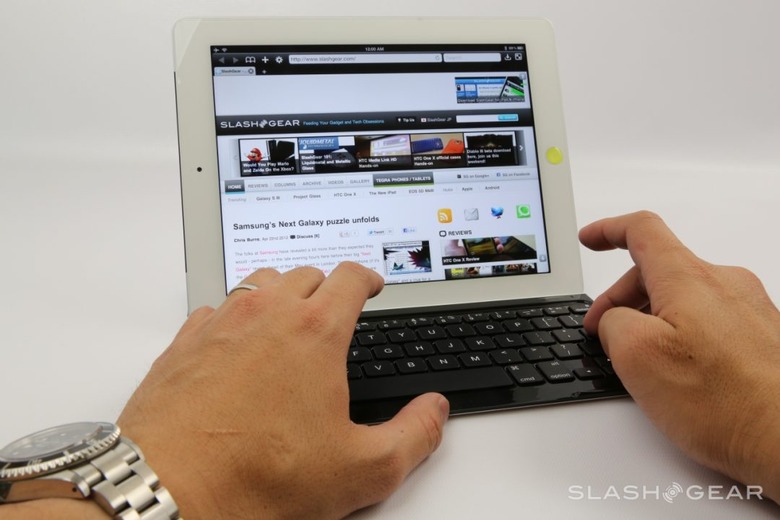 The iPad is a content creation tool, Apple insists, not just for consumption, and so Logitech's Ultrathin Keyboard Cover promises to turn the svelte slate into an instant-on ultraportable notebook of sorts. Still, there have been plenty of attempts at a keyboard for the various iterations of iPad before now, and they've seldom hit the spot. Rubbery keys, short travel or unwanted bulk have each taken their toll, leaving iPad owners with a tendency for text-entry to keep looking for the ideal model. Has Logitech got the recipe right? Read on for the SlashGear review.
Logitech's Ultrathin Keyboard Cover attempts to address those concerns. It's definitely slim, clipping to the iPad 2 or new iPad using the same Smart Cover magnet technology as Apple's own flip-covers, and roughly doubling the thickness and adding a few ounces of weight. Open it up, and that same magnet tech kicks the iPad out of standby (and vice-versa when you close it again).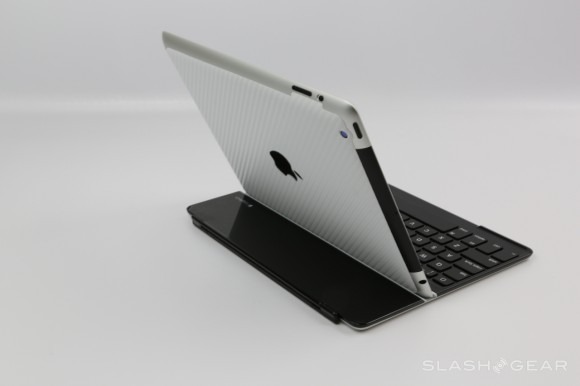 Actually using it requires pulling the iPad away and slotting it into a grove along the upper edge of the keys themselves. The slot itself has magnets to keep the iPad in place, and has just enough room to accommodate the tablet even when wearing a case. It'll have to be a reasonably slim case, mind; bulkier leather folios will need to be removed. It's also worth noting that the magnets only line up when the iPad is fitted in landscape orientation; in portrait orientation, you're relying on the grip of the slot alone to keep things upright, though that certainly proved sufficient in our testing.
In landscape mode, however, you can grab the iPad and lift the whole assembly up, the keyboard clinging to the bottom. The keys themselves are hard plastic, rather than rubber, and flat-topped, with a chiclet design similar to Apple's own MacBook Pro. It's not a full-sized layout – the iPad isn't big enough to accommodate it – but it's spacious enough, and has sufficient travel, for decent typing speeds rather than the stab-and-peck of other 'boards we've seen.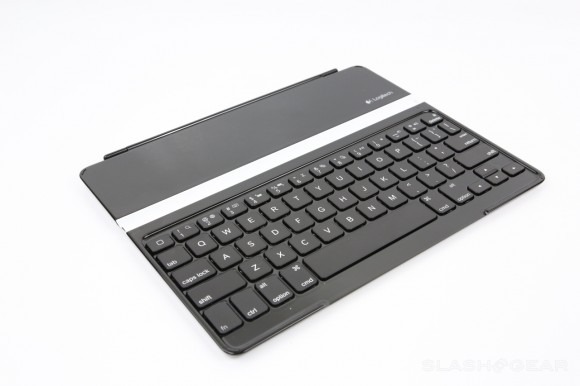 There are also a number of function keys for iPad-specific features. Triggered by holding down the Fn button and hitting one of the number-row buttons, they include volume up/down/mute, lock, cute/copy/paste, play/pause, search, and quick access to the browser. It's also possible to select one word at a time, either behind or ahead of the cursor, without having to perform the usual tap-and-hold to pull up the precise selection loupe.
The Logitech's iPad-matching aluminum casing certainly feels the part, though given it'll spend its time flat on the table and has no rubber feet to support it, we're expecting scratches sooner rather than later. A slip-case to accommodate both Ultrathin Keyboard Cover and the iPad itself would be a useful addition, especially given the magnets keeping the two paired can be overcome by a sideways shove.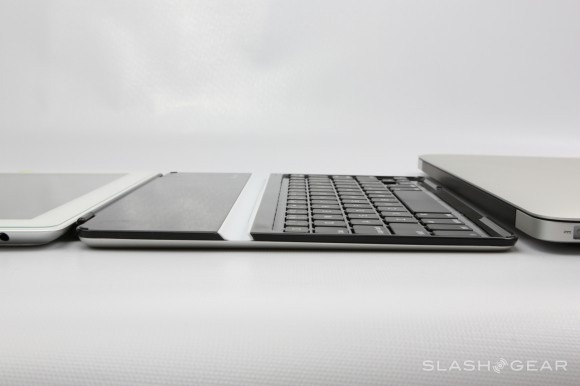 Bluetooth is used to hook the two sections up, meaning no awkward cords between tablet and keyboard, and we noticed no latency or delay issues. A microUSB cable recharges the non-replaceable battery, and thanks to some aggressive power management Logitech predicts up to six months of runtime from a single charge; that is, assuming you only use the keyboard for two hours a day. A physical power switch avoids any accidental turn-ons in a bag. We've obviously not had the Ultrathin Keyboard Cover for long enough to know how accurate Logitech's battery promise is.
Overall, it's hard not to be impressed by the new Logitech peripheral. It's well made, comfortable to type on, and – arguably most important for many iPad owners – matches Apple's style rather than clashing with it. At $99.99, it's expensive for a keyboard but, with a high-end Smart Cover being only $30-40 short of that on average, not outlandishly priced. Apple insists the iPad isn't just a content consumption tool but one that can be used to create as well; if text is your game, then the Logitech Ultrathin Keyboard Case should be your weapon of choice.