Logitech Slim Folio Pro gives iPad Pro a proper keyboard (with a catch)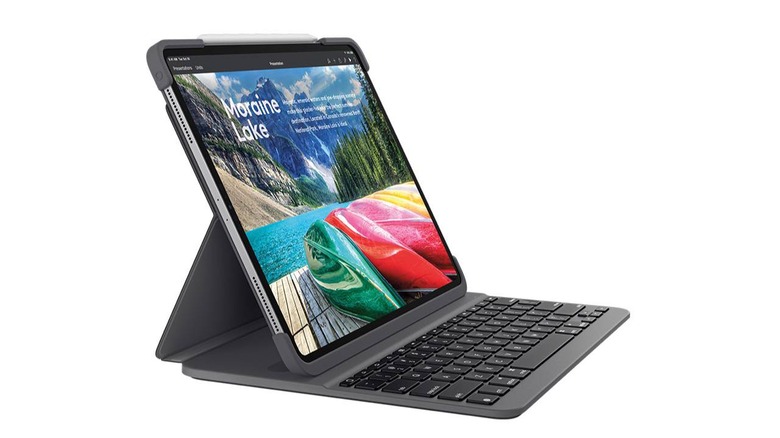 Logitech has a new keyboard for the iPad Pro, with the Slim Folio Pro promising a more laptop-like typing experience for Apple's 11-inch and 12.9-inch tablets. The first of Logitech's keyboard cases for the newest two iPad Pro models, the pitch is a far more familiar typing feel than the keys on Apple's own Smart Keyboard Folio.
So, the keys are separated as they would be on a regular notebook, as well as being backlit. Logitech offers three levels of user-adjustable brightness.
The keys themselves use a scissor mechanism, with 17 mm key pitch and 1.6 mm key travel. There's a full row of iOS shortcut keys along the top, too, including home, search, volume and music controls, a dedicated lock button, keyboard battery check button, and a Bluetooth connect button. Logitech also adds a button to toggle the on-screen keyboard.
Logitech says it expects the battery on the Slim Folio Pro to last for up to three months, though that's based on two hours of typing per day. It charges via USB-C, and pairs with the iPad Pro using Bluetooth Low Energy. Logitech has included automatic on/off, which powers the keyboard up when the iPad Pro is slotted into the position for typing, and then turns it off when it's removed again.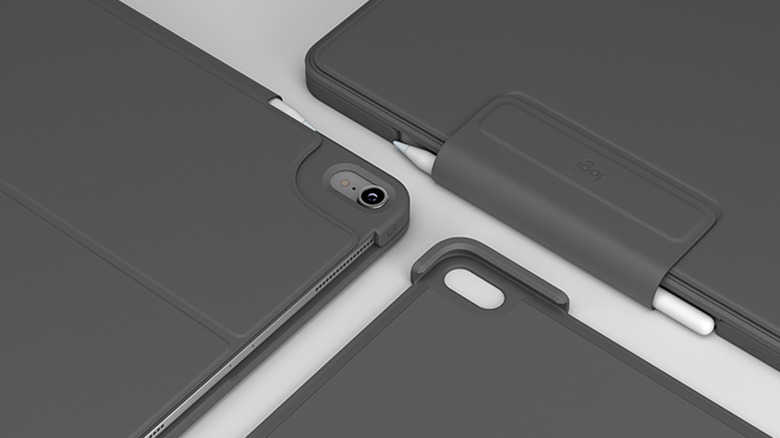 What's particularly clever, though, is how Logitech accommodates the second-generation Apple Pencil. Since that charges while clinging magnetically to the edge of the iPad Pro, Logitech has added a space for it to be accommodated in the case design. There's a magnetic latch holding the Slim Folio Pro closed; in the process, it protects both the front and the back of the tablet.
You still get access to the USB-C port and the rear camera with it on, however. The case opens in three different modes, which Logitech is referring to as Type, Sketch, and Read. In Type mode – intended, as the name suggests, for when you want to use the iPad Pro as a notebook alternative – the screen is propped at a fixed 58-degree angle. In Sketch mode, it's a more relaxed 10-degree angle.
The downside to all this is the extra heft involved. Apple's 11-inch Smart Keyboard Folio for the iPad Pro weighs 297 grams, while the 12.9-inch version tips the scales at 407 grams. In contrast, Logitech's Slim Folio Pro comes in at a meaty 552 grams for the 11-inch model, and 707 grams for the 12.9-inch.
Both models are available to pre-order now, and should ship this month. The 11-inch Slim Folio Pro is priced at $119.99, while the 12.9-inch Slim Folio Pro is $129.99.