Logitech's whole Powerplay mouse pad wirelessly charges its gaming mice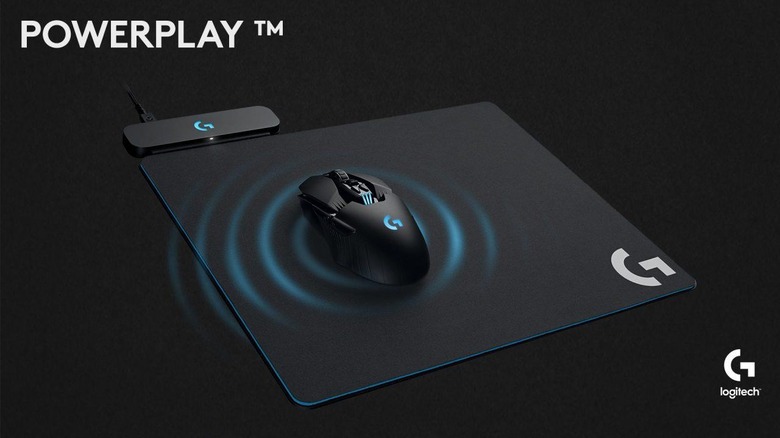 If gamers have been the long-standing wireless peripheral hold-outs, then Logitech thinks it finally has the answer to cutting the cord. Four years in the making, the Logitech G Powerplay system is the mouse and keyboard maker's foray into its own wireless charging system. Rather than go for one of the off-the-shelf approaches already in the wild, Logitech developed its own suited to the demanding requirements of the PC gaming community.
There, the complaints about wireless mice have usually centered on the worst-case scenario: running out of power in the midst of a game. Logitech's solution is to turn the entire mouse mat into a wireless charging pad, measuring a healthy 275 x 320 mm.
So, whether the mouse is stationary or in-use, as long as it's on top of the mouse mat it's being recharged. Logitech's pad uses a custom electromagnetic resonance system built into the 2mm thick slab. That's picked up by a Logitech Powercore module, which attaches underneath a compatible mouse by replacing the regular weight door.
That way, Logitech says, the mouse can keep being consistently powered, even if you lift and reposition it, or during high-speed flick shots. There are two new mice to use the system also being announced today, the G903 Lightspeed and the G703 Lightspeed. Both pair directly with the Powerplay mat's Lightspeed receiver, thus getting both power and data over a single USB cable.
Unfortunately that does mean that, while the Powerplay system will keep your mouse running, it won't be able to charge anything else: at least, nothing based on the same proprietary wireless charging standard that Logitech is using.
The mice themselves have the PMW3366 optical sensor, with a 200 to 12,000 DPI range. The G903 packs mechanical pivot-hinged buttons and tensioned metal springs, along with customizable button layout and an ambidextrous design. The G703, meanwhile, has rubber side grips, and both can be customized with the included Logitech Gaming Software.
The Logitech G903 mouse with Powerplay support will hit shelves in late July, priced at $149.99, while the G703 Lightspeed will arrive at the same time, priced at $99.99. As for the Powerplay Wireless Charging System itself, that will follow on in August, priced at $99.99.