Logitech MX Master Review - The ambitious mouse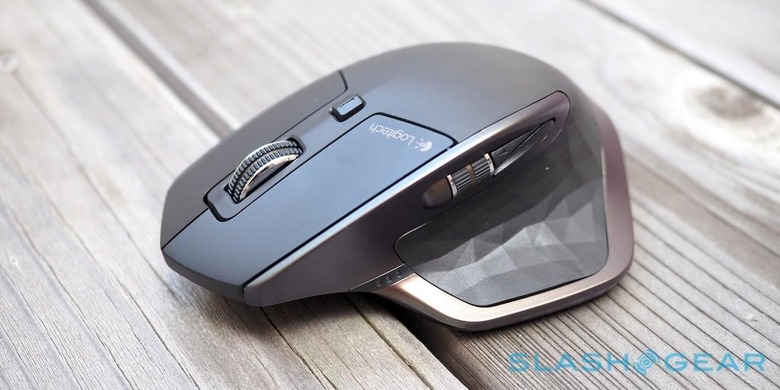 Turns out, mouse design is a serious business. Logitech has spent several years designing its new flagship peripheral, the MX Master, capable of embracing not just one but three of your computers, and even coaxing loyal trackpad users back into the fold. It also sees the return of one of Logitech's more contentious features, a slick scroll wheel with some fancy friction. I pushed my Magic Trackpad to one side to give the MX Master the chance to win me over; read on for the full review.
Now, I'll confess, I fell out of love with the mouse some years back. In fact, I'm a long-time trackpad user, both when mobile and on the desktop. I'm also a regular Mac user, and that's always presented an issue with third-party mice.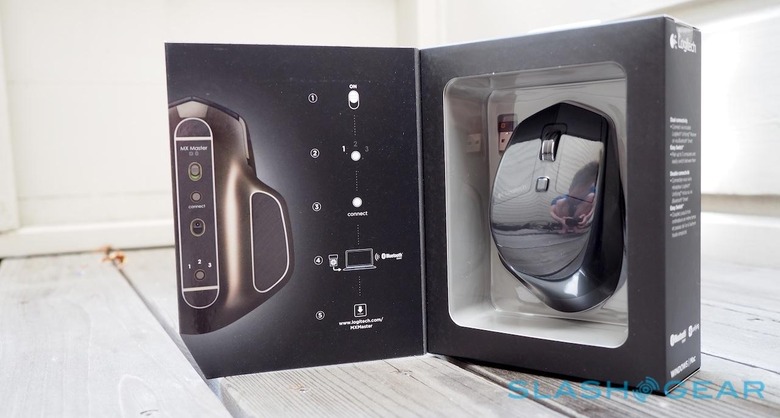 Apple has been progressively baking more and more gesture support into its trackpads, and that's something that has traditionally translated poorly to mouse use. Things like two-finger swiping for Launch Control or moving between photos in a gallery quickly become second-nature on a trackpad, but are tougher to replicate on a mouse.
Logitech claims to have solved that, with the addition of what it calls a "gesture button" that sits under your right thumb. Click that, and you get a Mission Control view of all the open windows in OS X; hold it, and you can drag down for App Expose, or left and right to switch between desktops.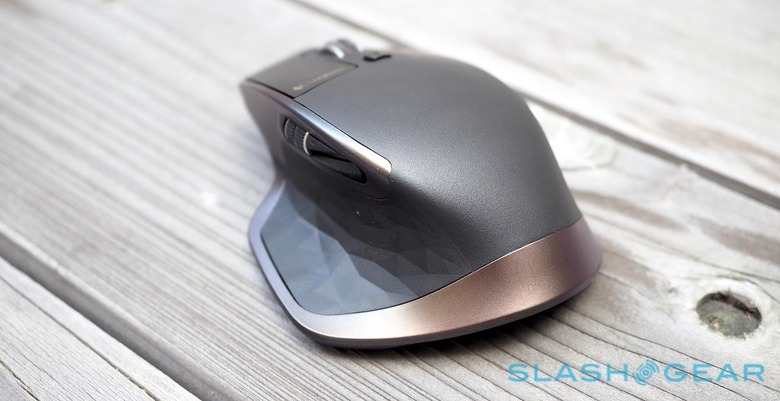 In addition to the scroll wheel on top – more on which in a moment – there's also a side wheel which can replicate a two-finger swipe. Right behind it there are small forward/back buttons, which initially seem tough to find with the tip of your thumb, but which are sharply notched to make it easier.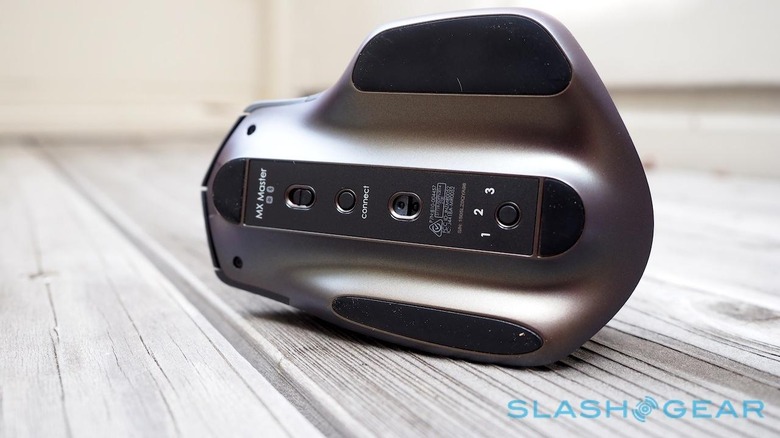 Setup is straightforward, though there's plenty of customization available. First install Logitech's companion app, then pair the mouse – either by plugging in the included Unifying Receiver, or connecting over Bluetooth LE; a button on the bottom cycles between three different paired devices, useful if you're using the same mouse with a work computer, home desktop, and laptop – and you're up and running.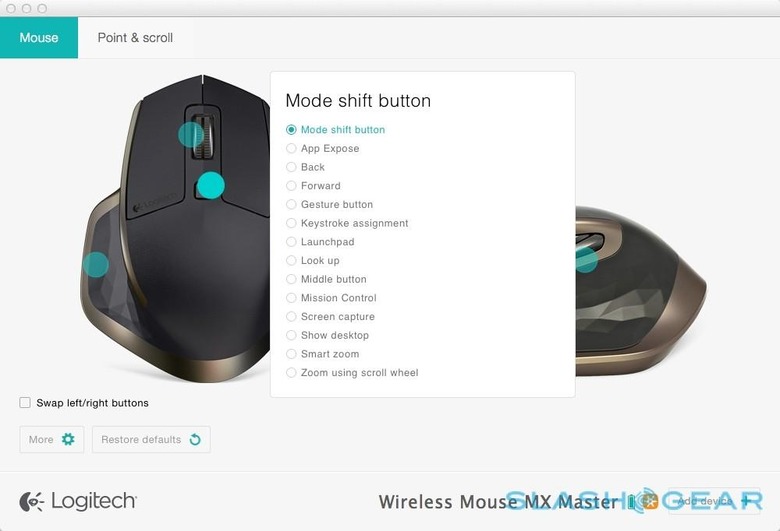 From there it's easy to customize what each of the controls do, and in fact all but the main left/right buttons can be assigned in multiple ways. Logitech boasts that there are over 100 combinations, in fact: the side wheel can adjust system volume, or brightness, or even pull up your notifications, for instance, while the side buttons can trigger a screenshot or fire off a pre-determined set of keystrokes.
The settings are saved on a per-device basis, not to the mouse itself, so you can have three different configurations across your three paired computers.
Perhaps most exciting for the Logitech-faithful, however, is the speed-adaptive scroll wheel on top. Rotate it slowly, and it clicks through line-by-line; spin it more vigorously, and the notches magically disappear and it whizzes through freely.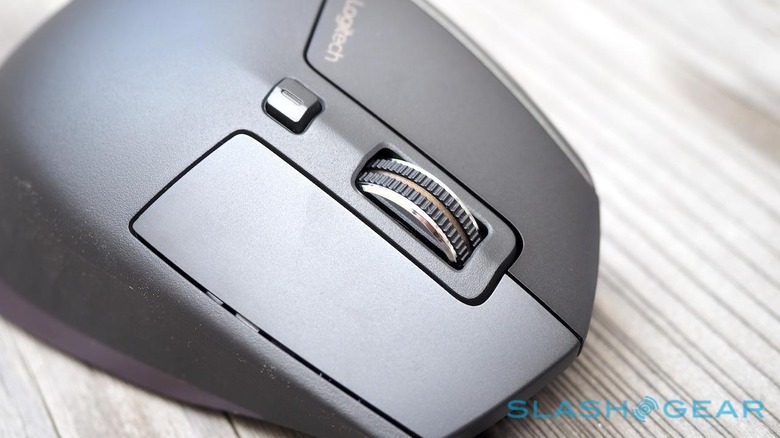 It's an idea Logitech first tried on the MX Revolution back in 2006, though there the implementation proved divisive. Many loved the twin-mode spinning, but the Revolution integrated left/right scrolling into a side-tilting wheel, which left the regular scrolling feeling wobbly. Logitech eventually killed the MX Revolution, to great wailing and gnashing of teeth; only recently, I'm told, one fan contacted the company's president through LinkedIn to demand its ressurrection.
Good news, then. By shifting left/right navigation to the secondary wheel, the MX Master suffers no such wobble. In fact, the speed-adaptive scrolling is astonishingly tactile, and it only took a few seconds of familiarization before I was alternately switching between precision movement down documents and flying through them. When you tap the wheel to stop it, it happens instantly, complete with a pleasingly mechanical click.
By default, the button just behind the wheel toggles speed-adaption on and off; when off, it scrolls smoothly with no notching.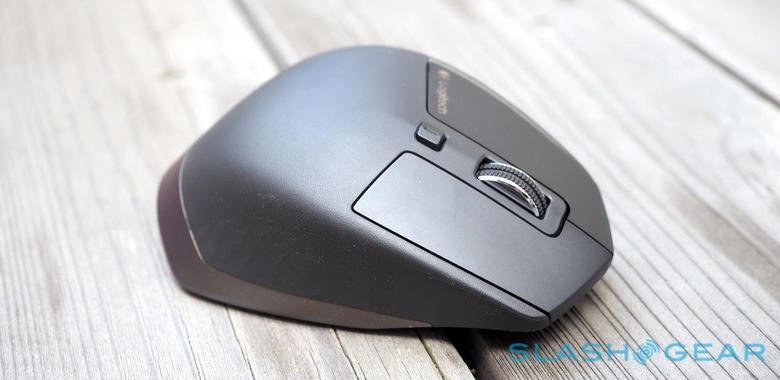 Logitech claims up to forty hours use from the non-accessible battery, with a row of three green LEDs along the side showing charge status. A mere sixty seconds plugged into a microUSB charger, meanwhile, is enough for an hour of use, and you can continue to use it while it's plugged in..
As for the sensor, it's one of Logitech's so-called Darkfield lasers, so there's no LED glow and no issues using the mouse on glass or other reflective surfaces. I was able to successfully navigate on wood, the denim of my jeans, and even high-gloss paint with no issues.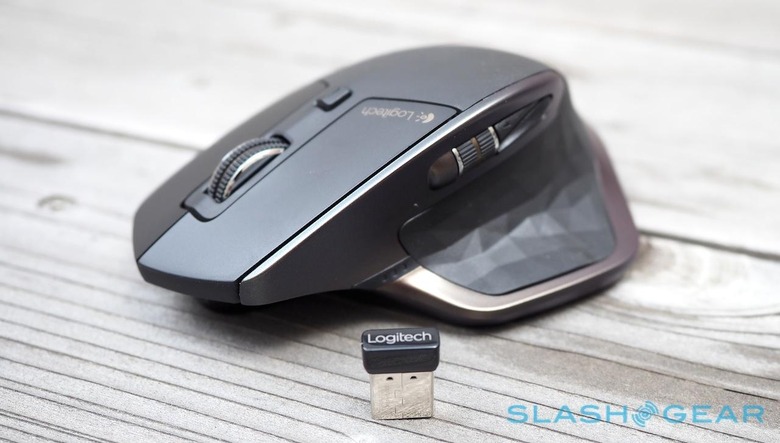 In practice, I'm surprised how comfortable I've been with the MX Master. I still think a trackpad is better for multi-finger gestures, but Logitech's approach does at least keep them usable after some familiarization. I've noticed my hand position is more ergonomically-correct, too, since I have a tendency to drop my wrist when I'm using a trackpad.
On my wooden desk, I'd prefer a little less friction from the pads underneath; I wish there was a place to store the Unifying Receiver, too, somewhere in the body of the mouse. I can't complain about the overall feel of the buttons, however. Logitech tells me each was run through 10m clicks before the engineers signed off on them, and while they don't take much pressure to trigger, nor do they feel flimsy.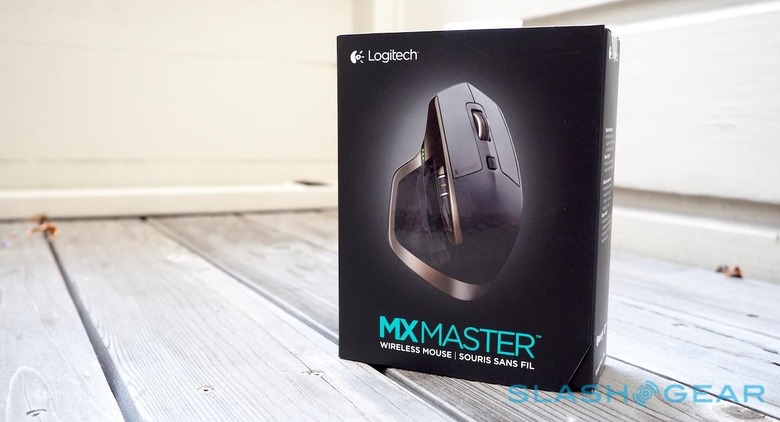 You're getting a lot for under $100. Though trackpad fans should expect a learning curve, I've found that the degree of programability the companion software offers leaves things actually more customizable than most native input methods. If you're already a mouse fan, then the MX Master's ergonomics, flexibility, and build-quality should mean it earns and keeps a space on your desk and in your laptop bag for years to come.
The Logitech MX Master is available to order online today, priced at $99.99. Logitech expects it to show up in stores in the first week of April.
MORE Logitech