Logitech Gaming Keyboard G110: custom LED backlighting, macros & USB audio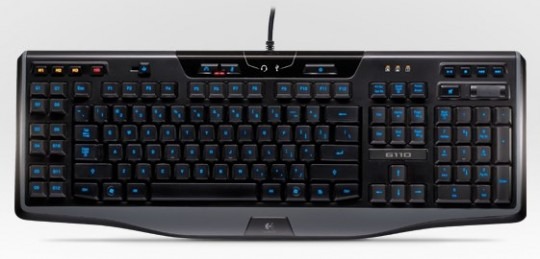 Logitech have announced their latest QWERTY 'board, the Logitech Gaming Keyboard G110, complete with custom key backlighting and an integrated USB soundcard for directly connecting a headset and microphone.  The Gaming Keyboard G110 has both blue and red LEDs, which can also be mixed together for purple shades, as well as a cluster of gaming shortcuts and macro buttons.
Those macros can combine up to 36 individual keystrokes, and the keyboard software will automatically switch between macro profiles when it recognizes you've loaded up the relevant game.  There's also a button to shut off the Windows and context-menu keys, so that you don't accidentally throw yourself out of play midway through playing.
A single USB connection hooks up and powers the G110, and on the back there's a USB host port (ideal for a mouse) together with 3.5mm analog headphone and microphone sockets for your gaming headset.  Mac and PC compatible, the Logitech Gaming Keyboard G110 is available now priced at $79.99.